Creating a blog for affiliate marketing is more than just putting words on a screen; it's a strategic move to build a steady income. Think of it as a digital storefront where you showcase products you believe in and earn a commission when your readers make a purchase.
You might feel overwhelmed by the choices and technical aspects. Trust me, as a professional affiliate marketer, I've been there. It can be a puzzle, from selecting the right products to integrating affiliate links. But don't worry; you'll get proven methods to overcome these hurdles.
Why should you care about this? Because mastering affiliate marketing can transform your blog into a profitable business. It can provide you with a stable income while offering genuine value to your readers. So, let's cut through the noise and get straight to the actionable steps you can take today.
Key Takeaways
Affiliate marketing is a performance-based advertising strategy where bloggers earn commissions by promoting products or services through unique affiliate links.
To create a successful affiliate marketing blog, choose a profitable niche that aligns with your expertise and market demand.
Select a domain name and hosting provider that reflects your niche and offers reliable service.
Set up your blog platform using a suitable blogging platform like WordPress, customize its appearance, optimize for SEO, and promote relevant affiliate products through engaging content.
Implement effective promotion strategies such as diversifying your product range, leveraging social media platforms, building an email list, creating quality content, and monitoring performance.
Understanding Affiliate Marketing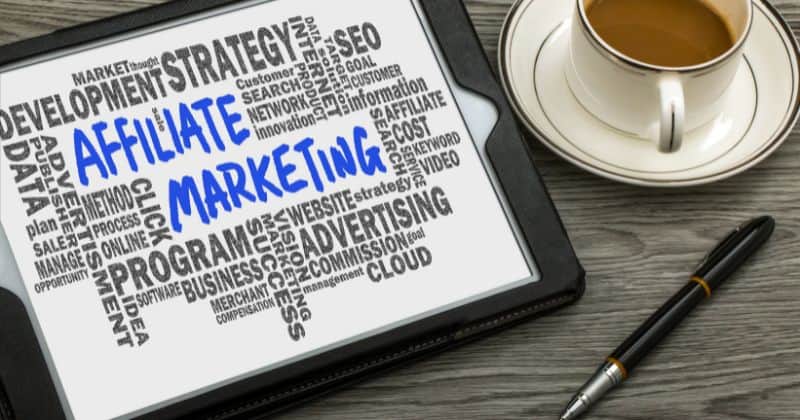 Affiliate marketing is when individuals or businesses promote products or services on their blogs and earn a commission for each sale through their unique affiliate link.
This type of marketing can be particularly effective when using targeted keywords to optimize the website for search engines like Google. By taking action and strategically incorporating relevant keywords, bloggers can increase their chances of attracting more traffic and generating higher commissions.
Definition and Concept of Affiliate Marketing
Diving into affiliate marketing, you're entering a performance-based advertising arena where earning is directly tied to your efforts. This brilliant online strategy allows bloggers like us to earn a commission from companies by promoting their products or services on our platforms.
It's essentially all about turning your blogging passion into profit. The beauty of it lies in its simplicity: When someone purchases through one of your uniquely-coded affiliate links, you make money! That's how commission-based marketing works.
But more than just monetizing our affiliate blogs, we enable businesses to expand their customer base far beyond their immediate locale – it's an online referral marketing method that benefits both parties involved in this profitable affiliate blogging system.
As an entrepreneur and blogger, understanding these implications can set you up for success as you venture into this revenue-sharing promotional journey.
How Affiliate Marketing Works
Affiliate marketing is a powerful and strategic approach that allows you to earn income online by recommending products or services. Here's how it operates: As an affiliate marketer, you would find a product or service from a company or individual willing to pay commissions for lead generation.
Once you've identified what you want to promote, the next step involves joining their affiliate program and receiving your unique affiliate link. This URL will be embedded in your blog posts as hyperlinks on certain keywords relating directly to the product/service being promoted.
That's just the first part.
When visitors click on these links within your content, they'll be redirected to the merchant's website, where they can potentially purchase the product or service you're promoting.
Now it gets interesting! Each time someone completes a purchase after clicking through via your special link, this transaction – thanks largely to cookies and tracking software – becomes associated with your affiliate account so that commission can be attributed back to you accurately.
Much like any other performance-based marketing strategy, earnings in affiliate marketing are 100% tied directly with sales achieved via referral traffic generated mainly through quality content provided by bloggers such as yourself who act as independent promoters of third-party offerings, including popular platforms like Amazon Affiliate Program.
Steps to Create a Successful Affiliate Marketing Blog
To create a successful affiliate marketing blog, you must choose a profitable niche, select a domain name and hosting provider, set up your blog platform, write quality content to promote affiliate products, and implement effective promotion strategies.
Choosing a Profitable Niche
Diving into the world of affiliate marketing begins with pinpointing a profitable niche. This is an essential step, and yet it's where many bloggers and entrepreneurs stumble. Don't simply follow the crowd; select a niche that aligns with your expertise, passion, or interest.
Pair this with market demand, and you've got yourself a winning combination for success. It's about creating content within your chosen realm that naturally incorporates affiliate links – making for an organic experience for your audience while achieving passive income at the same time.
You won't need to own or operate any business, as you share valuable insights about products on your blog, encouraging readers to purchase through your specific links—a win-win situation! With meticulous planning, you can kick-start successful affiliate marketing without spending hefty amounts—just sheer dedication and smart strategies!
Selecting a Domain Name
Choosing the right domain name is like picking your business's front door sign; it's the first thing people see and it sets the tone for what's inside. Get it right, and you'll make it easier for people to find you online, remember your site, and share it with others.
Consider your niche: Before registering a domain name, consider your niche and target audience. Choose a domain name that reflects your niche and is relevant to your content.
Keep it simple and short: Opt for a domain name with a '.com' extension as users widely recognize and trust it. Try to keep it concise and easy to remember.
Research domain registrars: Look for reputable domain registrars that offer competitive prices, reliable service, and good customer support. Compare options to find the best fit for your needs.
Check availability: Use domain search tools from registrars to check if your desired domain name is available. If not, consider variations or keywords that can still represent your brand effectively.
Selecting a Hosting Provider
Selecting the right hosting provider is like choosing the best home for your website. Make a smart choice, and your website will be fast and reliable, which will help you attract and keep visitors.
Selecting a web hosting provider: Look for a reliable one that offers good server uptime, fast loading speeds, scalability options, and excellent customer support.
Evaluate hosting plans: Compare different hosting plans offered by providers based on factors like storage space, bandwidth allocation, security features, backup options, and cost-effectiveness.
Consider WordPress compatibility: If you plan on using WordPress as your blogging platform (which is highly recommended), ensure that the hosting provider supports WordPress installations with one-click installation options.
Read customer reviews: Take the time to read reviews from other bloggers or entrepreneurs who have used the services of these providers before making a decision.
Seek recommendations: Ask fellow bloggers or entrepreneurs in relevant online communities or forums for recommendations on reliable domain registrars and web hosting providers with whom they have had positive experiences.
Setting Up Your Blog Platform
Setting up your blog platform correctly is the foundation for a successful affiliate marketing blog. Do this right, and you'll have a blog that's easy to manage, attracts visitors, and helps you achieve your goals.
The Basics
Define your target audience: Before setting up your blog, it's important to understand your target audience clearly. Identify their interests, needs, and pain points to tailor your content and promotions accordingly.
Choose a suitable blogging platform: There are several popular blogging platforms available, such as WordPress, Blogger, and Wix. Consider factors like ease of use, customization options, SEO capabilities, and integrations with affiliate marketing tools when choosing the right platform for your blog.
WordPress Setup
Install WordPress: Use your hosting control panel to install WordPress.
Admin Access: Log into your WordPress admin dashboard using the credentials provided during installation.
Theme Selection: Choose a WordPress theme that fits your blog's style.
Customize blog appearance: Make sure your blog's design is clean, professional, and visually appealing. Choose a theme or template that matches the tone and style of your content.
Plugin Installation: Install essential plugins for SEO, security, and functionality.
Basic Settings: Configure basic settings like permalinks, time zone, and site title.
Create Pages: Add essential pages like Home, About, Contact, and Blog.
4 Pillars of Affiliate Marketing Success
Set up an account with an affiliate program: Research reputable affiliate programs that align with your niche and sign up for an account. Consider factors like commission rates, product relevance, payment terms, and support provided by the program.
Optimize your blog for SEO: Implement on-page SEO techniques like keyword research, meta tags optimization, header tags usage, internal linking, and URL structure optimization. This will improve the visibility of your blog in search engine rankings.
Create engaging content promoting affiliate products: Focus on providing valuable information that addresses the needs of your audience while subtly promoting relevant products or services through affiliate links. Ensure that product promotion feels natural within the context of your content.
Drive traffic through effective promotion strategies: Utilize various channels like social media marketing, email marketing campaigns, guest posting on relevant blogs or websites, influencer partnerships, and paid advertising to attract targeted traffic to your blog.
Writing Quality Content to Promote Affiliate Products
Success in affiliate marketing hinges on resonating with your target audience. Understanding their unique needs and preferences is your first step.
Choose affiliate products that align well with these insights, offering real value to your readers. Focus on solving problems and answering questions through your content. Speak in a relatable, conversational tone to make your advice more approachable.
Wrap it up by compelling your audience to act—add calls-to-action that inspire purchases or sign-ups. To boost credibility, don't hesitate to share personal experiences or case studies.
Optimizing Content and Offerings
Promote a Wide Range of Products: Diversify your affiliate offerings to ensure multiple income streams.
Write Compelling Product Reviews: Share honest experiences and include relevant affiliate links.
Offer Exclusive Discounts and Deals: Leverage coupon codes and special offers to increase conversions.
Utilize SEO Techniques: Use relevant keywords and meta tags to improve search engine rankings.
Create High-Quality Content: Invest in creating evergreen content that brings value to your audience, making them more likely to engage with your affiliate links.
Building and Engaging with Your Audience
Leverage Social Media Platforms: Use Instagram, Facebook, and Twitter to reach a broader audience.
Build an Email List: Create a list of interested subscribers and send them valuable content and recommendations.
Engage with Your Audience: Respond to comments and messages to build trust and encourage clicks on your affiliate links.
Guest Posting on Relevant Websites: Broaden your reach by writing guest posts on blogs in your niche.
Run Webinars or Live Sessions: Host live sessions to discuss products you're promoting, providing an authentic touch and immediate engagement.
Monitoring and Adapting Strategies
Track Your Performance: Use analytics tools to measure the success of your affiliate campaigns.
Stay Up-to-Date with Industry Trends: Keep yourself informed about new products and strategies.
Test Different Promotion Methods: Experiment with different types of posts, emails, or social media campaigns to see what yields the best results.
Adjust Based on Feedback: Listen to your audience's needs and preferences to refine your promotional strategies.
Set Achievable Goals: Establish short-term and long-term objectives to guide your affiliate marketing efforts and measure success.
These categories offer a comprehensive view of what goes into successful affiliate marketing, making it easier for you to focus on specific areas.
Best Practices for Running a Successful Affiliate Marketing Blog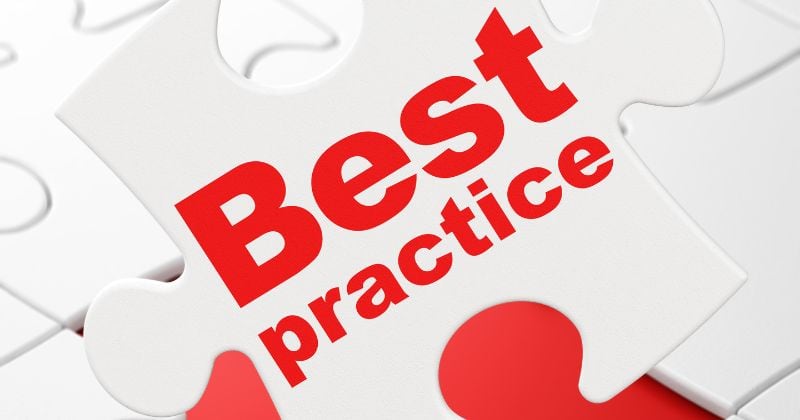 Building trust with your audience is paramount to running a successful affiliate marketing blog; consistently providing valuable and authentic content can establish yourself as an authoritative source in your niche.
Building Trust with Your Audience
Building trust with your audience is crucial to run a successful affiliate marketing blog. By establishing meaningful relationships and keeping them engaged, you can increase credibility and ultimately drive more conversions.
One important way to build trust is by providing valuable content that serves the interests and needs of your readers. This means creating high-quality, informative, engaging blog posts offering genuine value.
Transparency is also key. Be open about your affiliations and fully transparently disclose your partnerships to maintain trust. Only promote products or services you believe in and vet thoroughly to ensure their quality.
Engaging with your audience is another essential aspect of building trust. Responding to comments, feedback, and social media interactions shows that you care about their opinions and actively listen to their needs.
Optimizing Your Blog for Search Engine Rankings
As a blogger or entrepreneur, optimizing your blog for search engine rankings is crucial to increasing visibility and attracting organic traffic. Backlinks from respected websites can greatly enhance your chances of ranking higher in search results.
By monetizing your blog through affiliate marketing, you generate revenue and strengthen your content's appeal to search engines.
To improve your blog's ranking, delivering information in a format that aligns with what searchers are interested in is important. Analyzing the top-ranking pages can provide insights into the type of content that search engines prefer.
Utilizing a comprehensive guide to blog SEO will help you understand best practices and techniques for optimization.
While SEO can initially seem overwhelming, developing a routine simplifies the process. Publishing fresh and high-quality content consistently attracts search engine indexing while targeting relevant keywords.
Various tools are available for optimizing your blog, such as powerful blog optimization tools designed specifically for this purpose.
Joining Reputable Affiliate Programs
One of the crucial steps in running a successful affiliate marketing blog is joining reputable affiliate programs. As an affiliate marketer, you want to partner with programs that offer high-quality products or services and provide competitive commissions.
Look for trusted companies with a proven track record and positive reviews from other bloggers.
By joining reputable affiliate programs, you increase your chances of earning more income through your blog. These programs typically have a wide range of products or services that are relevant to your niche target audience.
This ensures you can promote offerings that align with your content and resonate with your readers.
When selecting affiliate programs, consider factors such as commission rates, cookie duration (the length of time during which you earn a commission on sales), payment options, and support available from the program's team.
Popular affiliate marketing programs
Here are a few popular affiliate marketing programs you might consider joining:
ClickBank: A well-established platform specializing in digital products, ClickBank offers high commission rates and many products to promote. It's particularly popular among beginners due to its user-friendly interface and straightforward setup process.
Amazon Associates: This program allows you to promote a wide range of products available on Amazon's marketplace, making it versatile for various niches.
ShareASale: This network offers a variety of merchants in different sectors, from fashion to technology, giving you a broad range of products to promote.
Commission Junction (CJ Affiliate): Known for its extensive network of brands and companies, CJ Affiliate offers various commission rates depending on the advertiser.
Rakuten Marketing: Formerly known as LinkShare, this program offers a variety of products and services to promote, including some high-end brands.
Awin: A global affiliate marketing network that offers a wide range of products and services to promote, including some popular European brands.
Impact: This platform is known for its robust tracking and reporting features, offering a variety of brands to partner with.
Avangate: Specializes in digital goods and software, making it a good choice for tech bloggers.
FlexOffers: This program offers a wide range of products and services, including some lesser-known brands that might be easier to get approved for.
Pepperjam: Known for its easy-to-use platform and variety of retailers, including some niche markets.
Skimlinks: This service automatically converts regular links into affiliate links, making it easier for bloggers to monetize their content without manually inserting affiliate links.
These programs offer a range of commission structures, products, and support, allowing you to choose the one that best aligns with your blog's niche and audience.
Monitoring and Analyzing Performance
One of the key aspects of running a successful affiliate marketing blog is monitoring and analyzing performance. Tracking and measuring your efforts is important to identify what works best for you.
By consistently monitoring metrics such as sales tracking, revenue streams, and website traffic, you can gain valuable insights into the effectiveness of your affiliate partnerships and promotional strategies.
An automated reporting system, like Google Analytics, can help simplify this process by regularly updating your top-earning affiliates and their performance trends. This allows you to make data-driven decisions and optimize your efforts for maximum success in the world of affiliate marketing.
Continuously Improving and Expanding Your Efforts
As an affiliate marketer, it is essential to continuously improve and expand your efforts to stay competitive and maximize your earnings. It's important to keep yourself updated with the latest trends and strategies in affiliate marketing and constantly educate yourself on effective online marketing tips.
By staying informed, you can adapt your approach and leverage new opportunities that arise.
One of the key ways to continuously improve your efforts is by monitoring and analyzing the performance of your blog or website. Regularly review metrics such as traffic, conversion rates, and revenue generated from affiliate sales. This will help you identify what works well and where improvements can be made.
Moreover, always strive to build trust with your audience by providing valuable content that addresses their needs and interests. High-quality content not only attracts readers but also increases engagement, which ultimately leads to higher conversions.
Conclusion
And there you have it! The path to creating a blog for affiliate marketing is clearer now, right? Every step matters, from choosing a domain name and platform to picking your niche, joining reputable affiliate programs, building trust with your audience, and driving traffic. Most importantly, delivering engaging content and carefully selecting products to promote are the keystones of a successful affiliate blog.
This is your time to transform your blogging passion into a real income source. Apply these principles, and watch your blog become a thriving hub for your audience and a source of passive income for you. Let's get started on this exciting journey!
FAQs
Do I need to have any technical knowledge to create a blog for affiliate marketing?
No, you don't need extensive technical knowledge to create a blog for affiliate marketing. There are user-friendly website platforms and content management systems available that make it easy for beginners to set up their blogs without coding or programming skills.
What is the best niche for an affiliate marketing blog?
The best niche for an affiliate marketing blog is one where there is a demand for products or services and a target audience that can be monetized effectively. It's important to choose a niche that aligns with your interests expertise, and has profitability potential.
How do I find suitable affiliate programs to join?
You can start by researching popular online marketplaces like Amazon Associates or Commission Junction to find suitable affiliate programs. You can also contact companies in your chosen niche that offer affiliate programs and inquire about partnership opportunities.
How can I drive traffic to my affiliate marketing blog?
Driving traffic to your affiliate marketing blog requires effective digital marketing strategies such as search engine optimization (SEO), social media promotion, content creation, email marketing campaigns, and collaborations with influencers or other bloggers in your niche. Consistently producing high-quality content and engaging with your audience will also help attract organic traffic over time.
How long does it take to see results from an affiliate marketing blog?
The timeline for seeing results varies depending on factors such as the quality of content produced, SEO efforts applied, promotion strategies implemented, and competition within the chosen niche. It may take several months before significant results are achieved.
Do I need to be an expert in my chosen niche to start an affiliate marketing blog?
While having expertise in your chosen niche can be beneficial, it is not always necessary. Researching and learning about the niche as you go along can also help you provide valuable content to your audience.