A Bluehost review serves as a valuable resource for decision-making, providing insights into the platform's features and performance.
Bluehost has gained immense popularity and enjoys a stellar reputation in the web hosting industry. It is known for its user-friendly interface, reliable customer support, and robust infrastructure. With millions of websites hosted on their servers, Bluehost has become one of the go-to choices for WordPress website owners.
The intention behind this review is to offer an unbiased analysis based on thorough research and testing. We will outline our methodology, including the types of tests performed and tools utilized to evaluate various aspects of Bluehost's services.
If you are considering launching or migrating your WordPress site, this review will help you determine if Bluehost is the right choice for your website management needs.
We evaluate web hosting providers based on our review guidelines and the key criteria of – performance, reliability, support, and pricing.
To measure performance, we conduct speed tests and analyze traffic handling capabilities.
For reliability, we monitor uptime records over an extended timeframe.
We thoroughly evaluate customer support by monitoring public channels such as Twitter, Google reviews, BBB, Trustpilot, and Facebook groups. This allows us to assess each hosting provider's customer service responsiveness, reputation, and satisfaction levels.
We compare pricing tiers to provide accurate cost information. Our team of experts performs hands-on research and analysis. We are committed to providing transparent, unbiased reviews.
Overview of Bluehost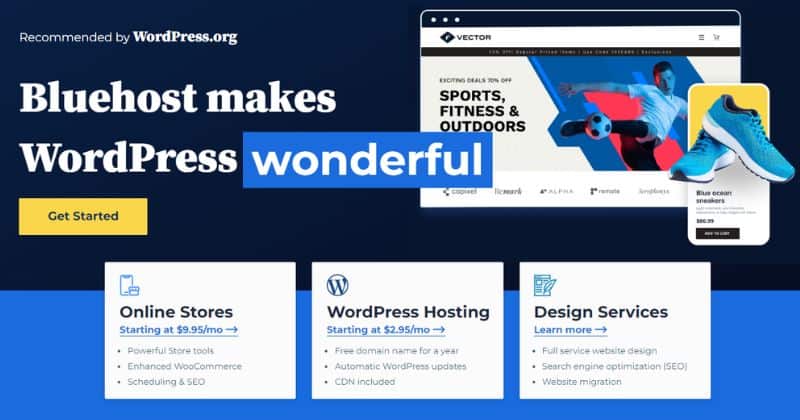 Bluehost is a renowned web hosting company that has been providing services since its establishment in 2003. With a mission to empower individuals and businesses to create a strong online presence, Bluehost has become one of the leading players in the hosting services industry. Offering shared hosting options at an affordable price, Bluehost is the go-to choice for anyone looking to launch a website or online platform.
Background History and Mission
Bluehost has a rich history, starting as a small company founded by Matt Heaton. Over the years, it has grown exponentially and currently hosts millions of websites worldwide. The company's mission is to provide reliable and affordable web hosting solutions that cater to the needs of various individuals and businesses.
Company Size and Statistics
As one of the largest web hosting providers globally, Bluehost boasts an impressive infrastructure and resources. With over 2 million websites hosted on their platform, they have established themselves as a trusted name in the industry. Their team comprises experienced professionals who are dedicated to delivering top-notch services.
Who They Serve
Bluehost caters to a wide range of customers, including bloggers, entrepreneurs, small business owners, and even large enterprises. Whether you're just starting out or have an established online presence, Bluehost offers plans suitable for all levels of expertise.
What They Are Best Known For
Bluehost is best known for its reliability and excellent customer support. They offer robust hosting solutions with high uptime guarantees, ensuring that your website remains accessible at all times. Their customer support team is available 24/7 via phone or live chat to assist users with any technical issues or queries they may have.
How They Differentiate from Competitors
One key aspect that sets Bluehost apart from its competitors is their user-friendly interface. Their intuitive control panel makes it easy for beginners to set up their websites without any hassle. Bluehost provides seamless integration with popular content management systems like WordPress, enabling users to manage their sites efficiently.
Highlighting Reputation and Experience
With nearly two decades of experience in the industry, Bluehost has built a solid reputation for providing reliable hosting services. They have received numerous accolades and positive reviews from customers, highlighting their commitment to delivering exceptional performance and support.
Summary of Offerings
Bluehost offers a wide range of hosting solutions tailored to different needs. Their offerings include shared hosting, virtual private servers (VPS), dedicated servers, and WordPress hosting. Each plan comes with various features such as unlimited bandwidth, email accounts, and free SSL certificates.
Key Features and Benefits
Wide Range of Security Features
Bluehost understands the importance of keeping your website and data secure. That's why they offer a wide range of security features to protect you from potential threats. With Bluehost, you can rest easy knowing that your website is protected against malware, viruses, and other malicious attacks. Their robust security measures help safeguard your valuable information and ensure the smooth functioning of your online presence.
Extensive Knowledge Base for Troubleshooting and Learning
One of the standout features of Bluehost is its extensive knowledge base. This resource hub provides users with a wealth of information to troubleshoot issues and learn more about website management. Whether you're a beginner or an experienced user, you'll find helpful articles, tutorials, and guides to enhance your understanding and make the most out of Bluehost's services.
Reliable Customer Support
Bluehost takes pride in its reliable customer support system. If you encounter any technical difficulties or have questions about their offerings, their support team is available 24/7 to assist you promptly. Their knowledgeable representatives are well-equipped to address your concerns and provide effective solutions. Whether it's via live chat, phone, or email, Bluehost ensures that their customers receive top-notch support whenever they need it.
Great Value for Money with Affordable Plans
Bluehost offers an affordable introductory price for their basic plan. This makes it an excellent choice for individuals or small businesses looking to establish an online presence without breaking the bank. Despite its affordability, the basic plan doesn't compromise on essential features needed for website hosting. It includes ample storage space, bandwidth allocation, domain registration options, and more.
User-Friendly Interface
Bluehost prides itself on providing a user-friendly interface that simplifies website management tasks. Their intuitive control panel allows users to navigate effortlessly through various settings and configurations without any technical expertise required. Whether you're setting up a new website, managing domains and subdomains, or installing applications like WordPress, Bluehost's interface makes the process seamless and hassle-free.
SEO Tools for Enhanced Visibility
In today's competitive online landscape, search engine optimization (SEO) is crucial for improving your website's visibility. Bluehost offers a range of built-in SEO tools to help you optimize your site and improve its rankings on search engine result pages. These tools enable you to analyze keywords, track performance metrics, generate sitemaps, and more.
Pros
Bluehost offers a range of SEO tools and services for improved website performance.
Bluehost is known for its comprehensive suite of SEO tools and services that can greatly enhance the performance of your website. With these offerings, you can optimize your site to rank higher in search engine results, attract more organic traffic, and ultimately grow your online presence. These SEO tools provide valuable insights into keyword research, competitor analysis, and on-page optimization techniques. By leveraging these resources, you can effectively target relevant keywords, improve your website's visibility, and drive more targeted traffic to your site.
Some notable SEO tools and services provided by Bluehost include:
Keyword Research: Bluehost offers robust keyword research tools that allow you to identify high-performing keywords related to your industry or niche. This helps you tailor your content to match user search intent and increase the likelihood of ranking higher in search engine results.
Competitor Analysis: With Bluehost's competitive analysis tools, you can gain valuable insights into what strategies are working for your competitors. This information enables you to fine-tune your own approach and stay ahead in the digital landscape.
On-Page Optimization: Bluehost provides easy-to-use on-page optimization features that guide you through optimizing various elements of your website such as meta tags, headings, URLs, and image alt text. These optimizations help search engines understand the relevance of your content and improve its visibility.
The easy-to-use interface and options provided by Bluehost make it an ideal choice for beginners.
If you're new to building websites or managing online businesses, Bluehost is an excellent option due to its user-friendly interface and intuitive options. The platform simplifies the process of setting up a website by providing step-by-step guidance throughout every stage. From domain registration to site design and customization, Bluehost ensures that even those without technical expertise can create professional-looking websites effortlessly.
Some key reasons why beginners find Bluehost user-friendly include:
One-Click Installations: Bluehost offers one-click installations for popular content management systems like WordPress, Joomla, and Drupal. This eliminates the need for manual installation and allows beginners to quickly set up their websites with ease.
Drag-and-Drop Website Builder: Bluehost's website builder comes equipped with a drag-and-drop interface, enabling users to design and customize their websites without any coding knowledge. This intuitive tool empowers beginners to create visually appealing sites without the complexity of traditional web development.
Cons
Limited CPU resources for shared hosting plans
One of the drawbacks of Bluehost's shared hosting plans is the limited CPU resources. Shared hosting means that multiple websites are hosted on the same server, which can lead to resource limitations. Some users have reported experiencing slower website performance when their site receives a significant amount of traffic or uses resource-intensive applications. It's important to consider this limitation if you anticipate high levels of traffic or require extensive server resources for your website.
Backup services are not included in the basic plan
Another downside to be aware of is that Bluehost's basic plan does not include backup services. While it's always recommended to regularly back up your website, some hosting providers offer automatic backup services as part of their plans. However, with Bluehost's basic plan, you will need to handle backups manually or purchase additional backup services separately. This can be an inconvenience and an added expense for those who prefer automated backups or want peace of mind knowing their data is securely stored.
Some users have reported issues with customer support response times
While Bluehost offers customer support via phone, live chat, and email, some users have reported issues with response times from their customer support team. Quick and efficient customer support is crucial when encountering technical difficulties or needing assistance with your hosting account. Delayed responses can be frustrating and may impact your ability to resolve issues promptly. It's essential to consider this potential drawback if timely customer support is a priority for you.
Options for higher-tier hosting accounts can be expensive
Although Bluehost provides various hosting options to accommodate different needs, it's worth noting that higher-tier hosting accounts can be quite costly compared to other providers in the market. While these advanced plans may offer additional features and resources, they come at a premium price point. If budget constraints are a concern for you, it's important to carefully evaluate whether the extra benefits justify the higher cost.
Hosting Pricing Plans and Services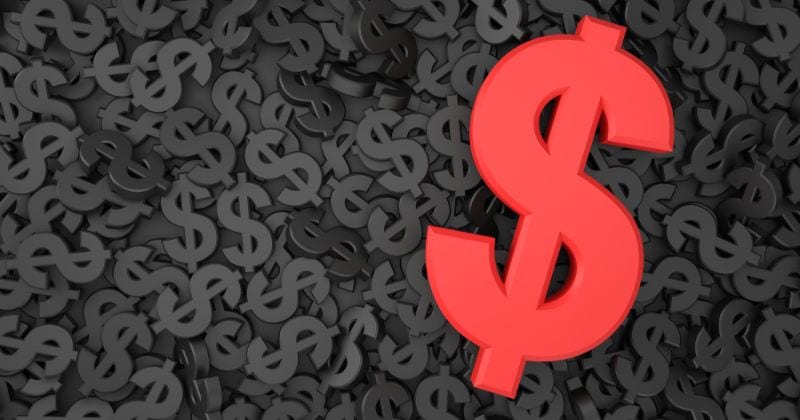 Bluehost offers a wide range of hosting plans and services to cater to different needs and budgets. Whether you are a small business owner, a blogger, or an e-commerce entrepreneur, Bluehost has hosting options to suit your requirements. Let's take a closer look at their hosting pricing plans and specialized services.
Hosting Plans and Pricing
Bluehost provides various hosting plans that include shared hosting, WordPress hosting, VPS hosting, dedicated hosting, cloud hosting, WooCommerce hosting, and more. Each plan is designed to meet specific website needs and comes with its own set of features. Here are some key details about Bluehost's hosting plans:
Shared Hosting: This is the most popular option for beginners as it offers affordable pricing starting at $2.95 per month (for the Basic plan). It allows multiple websites to share resources on a single server.
WordPress Hosting: Bluehost is recommended by WordPress.org itself due to its seamless integration with the platform. Their WordPress-specific plans start at $2.95 per month (for the Basic plan) and come pre-installed with WordPress for easy setup.
VPS Hosting: Virtual Private Server (VPS) hosting provides more control and resources compared to shared hosting. Bluehost's VPS plans start at $18.99 per month (for the Standard plan) and offer scalable options for growing websites.
Dedicated Hosting: For websites that require maximum performance and security, dedicated servers provide exclusive resources for your site alone. Bluehost's dedicated hosting starts at $79.99 per month (for the Standard plan).
Cloud Hosting: With cloud-based infrastructure, this type of hosting ensures high availability and scalability for your website or application needs. Bluehost's cloud plans start at $6.95 per month (for the Starter plan).
Specialized Hosting Services
In addition to their standard hosting plans, Bluehost offers specialized services to cater to specific website needs. These services include:
WooCommerce Hosting: Bluehost has optimized hosting plans specifically designed for online stores powered by WooCommerce. These plans come with pre-installed WooCommerce, free SSL certificates, and other e-commerce features.
Managed WordPress Hosting: Bluehost's managed WordPress hosting takes care of the technical aspects of running a WordPress site, including automatic updates, backups, and enhanced security measures.
Domain Registration: Bluehost allows you to register domain names directly through their platform.
Bluehost Performance and Security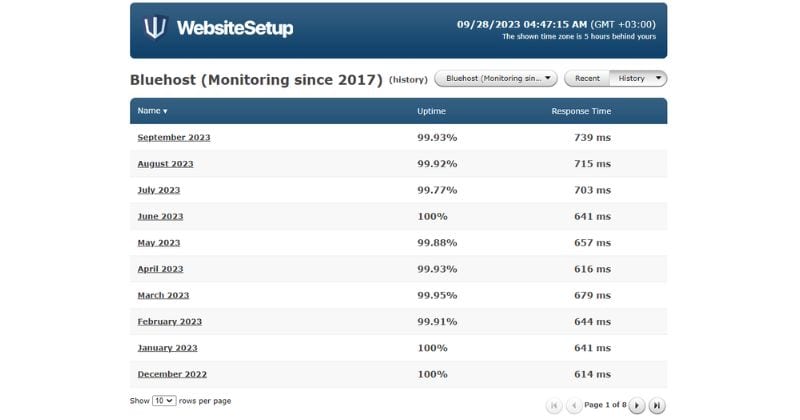 Bluehost is known for its exceptional performance and robust security features, making it a reliable choice for hosting websites. Let's delve into the key aspects of Bluehost's performance and security to understand why it stands out among other hosting providers.
Uptime
When selecting a web host, uptime is a crucial factor to consider. Bluehost offers an impressive uptime guarantee, ensuring that your website remains accessible to visitors at all times. With their reliable infrastructure and network, they strive to minimize any instances of downtime.
Speed
Website loading speed plays a vital role in user experience and search engine rankings. Bluehost prioritizes fast loading times by utilizing top-notch hardware and optimizing server configurations. Their servers are designed to handle high traffic volumes efficiently, ensuring that your website performs optimally even during peak periods.
To further enhance speed, Bluehost provides unmetered bandwidth, allowing for seamless data transfers between your site and visitors. They offer free Content Delivery Network (CDN) integration, enabling faster content delivery globally by caching static files on servers located closer to users.
Security Features
Bluehost takes security seriously and offers an array of features to protect your website from potential threats:
Regular Backups: They automatically create backups of your website data on a daily, weekly, or monthly basis. In case of any unforeseen issues or data loss, you can easily restore your site with just a few clicks.
SSL Certificate: Every Bluehost plan includes a free SSL certificate that encrypts the connection between your website and its visitors. This ensures secure transmission of sensitive information such as login credentials or payment details.
Stress Testing: To ensure optimal performance under heavy traffic loads, Bluehost conducts stress testing on their servers. This helps identify any bottlenecks or vulnerabilities in advance.
DDoS Protection: Distributed Denial-of-Service (DDoS) attacks can disrupt website functionality. Bluehost provides robust DDoS protection to safeguard your website from such malicious attacks.
Two-Factor Authentication (2FA): Bluehost offers an additional layer of security through 2FA, which requires users to provide a second form of authentication (such as a code sent to their mobile device) when logging in.
Data Center Locations
Bluehost has multiple data centers strategically located around the world. These data centers are equipped with state-of-the-art infrastructure and redundant systems to ensure optimal performance and reliability.
Customer Support and Satisfaction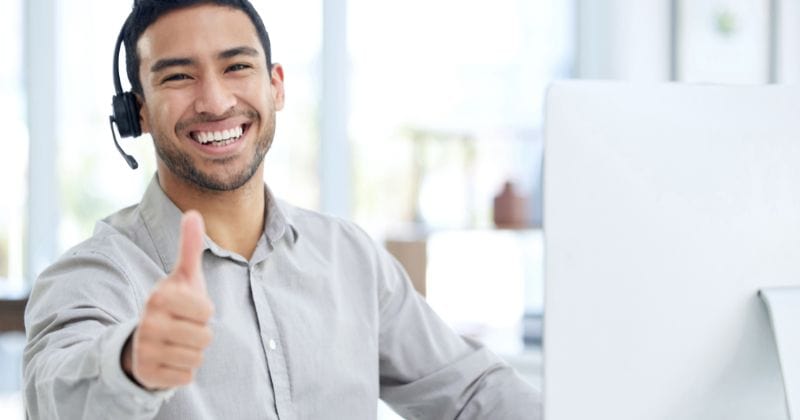 Bluehost is renowned for its exceptional customer support and commitment to customer satisfaction. With a wide range of support options available, Bluehost ensures that users have access to assistance whenever they need it.
Support Options
Bluehost offers various channels for customer support, including live chat, phone, and email. This 24/7 availability ensures that users can reach out for help at any time, regardless of their location or time zone. The ease of use and accessibility of these support options make Bluehost a reliable web hosting service.
Positive User Feedback
Real user reviews consistently highlight the helpfulness and responsiveness of the Bluehost support team. Customers appreciate the prompt assistance they receive when encountering technical issues or needing guidance with their hosting services. The positive feedback regarding the support system demonstrates Bluehost's dedication to ensuring a smooth user experience.
Additional Resources
In addition to direct customer support, Bluehost provides additional resources to assist users in resolving common issues independently. These resources include a comprehensive knowledge base with articles covering various topics related to web hosting services. Video tutorials are also available to guide users through different processes, such as setting up email accounts or performing backups.
The availability of these supplementary materials enhances the overall user experience by empowering customers with self-help options while still having access to dedicated support when needed.
Is Bluehost a Good Choice for Beginners?
Bluehost is an excellent web hosting provider that offers several features and benefits tailored to beginners. Let's explore why Bluehost is a popular choice for those who are new to website creation and management.
Ease-of-use for beginners due to intuitive control panel (cPanel)
One of the standout features of Bluehost is its user-friendly interface, particularly the intuitive control panel known as cPanel. This control panel simplifies the process of managing your website, making it accessible even for beginners with little technical knowledge. With cPanel, you can easily navigate through various settings and options, allowing you to customize your site according to your preferences.
Availability of one-click installations for popular CMS platforms like WordPress
For beginners looking to build their websites using content management systems (CMS) like WordPress, Bluehost provides seamless integration and support. With just a few clicks, you can install WordPress on your Bluehost account using their one-click installation feature. This eliminates the need for manual setup and configuration, saving you time and effort in getting your website up and running quickly.
Supportive community forums where beginners can seek guidance
Another advantage of choosing Bluehost as a beginner is its active community forums. These forums serve as a platform where users can seek advice, share experiences, and troubleshoot issues related to web hosting or website development. Being part of such a supportive community can be immensely helpful when starting out as a beginner, as you can learn from others' experiences and receive guidance from more experienced users.
In addition to these key points, there are other factors that make Bluehost an ideal choice for beginners:
Affordability: Bluehost offers competitive pricing plans suitable for those on a budget.
Reliability: With high uptime rates and reliable servers, Bluehost ensures that your website remains accessible at all times.
Security: Bluehost prioritizes security measures to protect your website from potential threats and attacks.
Scalability: As your website grows, Bluehost provides the flexibility to upgrade your hosting plan to accommodate increased traffic and resource demands.
Alternative Host Providers
Bluehost is not the only option available. There are several other hosting providers in the market that offer different features and pricing plans to cater to different needs.
Compare Features against Competitors
Bluehost offers a range of features that make it a popular choice for many website owners. However, it's important to compare these features with those offered by other hosting providers to ensure you're getting the best value for your money.
Some key features to consider when comparing Bluehost with its competitors include:
Storage space: Different web hosting providers offer varying amounts of storage space for your website files. Compare the storage limits provided by each host to determine which one best suits your needs.
Bandwidth: The amount of bandwidth allocated by a hosting provider affects how much traffic your website can handle. Consider the bandwidth limits offered by different hosts and choose one that can accommodate your expected traffic levels.
Security features: Look for hosts that provide robust security measures such as SSL certificates, firewalls, and malware scanning to protect your website from potential threats.
Website builders: If you're new to building websites, look for hosts that offer user-friendly website builders or content management systems (CMS) like WordPress or Joomla.
Customer support: Consider the level of customer support provided by each host. Look for options like 24/7 live chat, phone support, or ticket-based systems.
Compare Pricing against Competitors
Pricing is an important factor when choosing a web host. While Bluehost offers competitive pricing plans, it's always a good idea to compare them with other providers to ensure you're getting the best deal.
Consider these factors when comparing pricing plans:
Introductory rates vs renewal rates: Many hosting providers offer discounted introductory rates but increase prices upon renewal. Make sure to check the renewal rates to avoid any surprises.
Add-on costs: Some hosts may charge extra for features like email accounts, domain registration, or website backups. Compare these additional costs across different providers.
Money-back guarantee: Look for hosts that offer a money-back guarantee in case you're not satisfied with their services.
Comparing Features, Pricing, Performance, and Customer Satisfaction
When choosing a hosting provider, it's essential to consider not only the features and pricing but also performance and customer satisfaction.
Final Verdict on Bluehost
In conclusion, Bluehost is a reliable and feature-rich web hosting provider that offers a range of services to meet the needs of both beginners and experienced website owners. With its competitive pricing plans, robust performance, and top-notch customer support, Bluehost proves to be a solid choice for individuals and small businesses looking to establish an online presence.
With Bluehost's user-friendly interface and one-click WordPress installation, it is particularly well-suited for beginners who want to quickly set up their websites without any technical hassle. The company's commitment to security measures ensures that your data remains safe and protected. Their 24/7 customer support team is readily available to assist with any issues or inquiries you may have.
If you're in search of a reliable web hosting provider that offers excellent performance, comprehensive features, and exceptional customer support, Bluehost should definitely be at the top of your list. Don't miss out on the opportunity to enhance your online presence with this trusted hosting solution.
FAQs
Can I transfer my existing website to Bluehost?
Bluehost provides easy website migration tools that allow you to seamlessly transfer your existing website from another hosting provider. Their expert team can assist you throughout the process to ensure a smooth transition.
Does Bluehost offer a money-back guarantee?
Bluehost offers a 30-day money-back guarantee on all their hosting plans. If you are unsatisfied with their services within the first 30 days of signing up, you can request a full refund.
Can I host multiple websites on one Bluehost account?
Depending on the plan you choose, Bluehost allows you to host multiple websites under one account. This makes it convenient if you have multiple domains or need separate websites for different projects.
Is there an uptime guarantee with Bluehost?
Bluehost guarantees an impressive 99.9% uptime for your website. This ensures that your site remains accessible to visitors at all times, minimizing any potential downtime.
Does Bluehost offer domain registration services?
Bluehost provides domain registration services. You can either register a new domain or transfer an existing one to their platform. They offer a wide range of domain extensions to choose from.
Is Bluehost overpriced?
Bluehost's pricing is generally competitive within the web hosting industry, offering a range of plans suitable for different needs. The basic plan starts at $2.95 per month for the initial term. However, prices do increase upon renewal, and some users might find add-ons or premium features costly.
Which is better Bluehost or GoDaddy?
Bluehost excels in WordPress integration and offers a free SSL certificate, making it ideal for beginners. GoDaddy provides a broader service range, including domain registration and Windows-based hosting. Your choice should hinge on specific needs, such as WordPress optimization versus service diversity.
What are the cons of Bluehost?
Bluehost's cons include higher renewal rates after the initial promotional period, occasional service downtimes, and limitations in customization features. Additionally, some users have cited performance inconsistencies and upselling tactics as drawbacks. These factors may necessitate evaluating alternative hosting options.
Why not to use Bluehost?
While Bluehost is popular for its ease of use and customer service, it has some drawbacks. Renewal rates can be significantly higher than initial promotional prices. Additionally, users have reported occasional downtimes and limitations in customization options. These factors may prompt consideration of alternative hosting providers.
What is better than Bluehost?
Comparing Bluehost to alternatives, SiteGround offers advanced security features and superior customer support. A2 Hosting excels in speed due to its Turbo Servers. HostGator provides a more extensive range of hosting types including reseller hosting. Choice depends on specific needs like speed, support, or versatility.