This blog post aims to provide valuable insights into SiteGround's offerings and the importance of selecting the right web hosting provider. A SiteGround review is essential for decision-making, considering the popularity and reputation it holds in the web hosting industry. The intention of this review is to present an unbiased analysis based on a structured methodology that includes various tests and tools.
Choosing the right provider can significantly impact its performance, security, and overall success. SiteGround has established itself as a trusted name in the industry, catering to a wide range of website needs with its robust features and reliable services. By examining different aspects such as speed, uptime, customer support, and pricing plans, this review will help you determine if SiteGround is indeed the best choice for your specific requirements.
So let's dive into this comprehensive evaluation of SiteGround's capabilities and find out if it is the ideal web hosting solution for you.
We evaluate web hosting providers based on our review guidelines and the key criteria of – performance, reliability, support, and pricing.
To measure performance, we conduct speed tests and analyze traffic handling capabilities.
For reliability, we monitor uptime records over an extended timeframe.
We thoroughly evaluate customer support by monitoring public channels such as Twitter, Google reviews, BBB, Trustpilot, and Facebook groups. This allows us to assess each hosting provider's customer service responsiveness, reputation, and satisfaction levels.
We compare pricing tiers to provide accurate cost information. Our team of experts performs hands-on research and analysis. We are committed to providing transparent, unbiased reviews.
Overview of SiteGround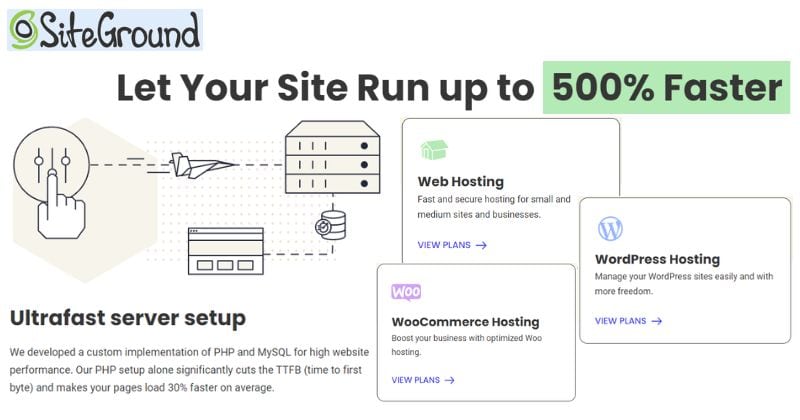 Background, History, and Mission
SiteGround is a web hosting company that has been in operation since 2004. Their mission is to provide reliable and secure hosting solutions to individuals and businesses worldwide. With over 2 million domains hosted on their platform, SiteGround has established itself as a trusted name in the industry.
Company Size and Statistics
SiteGround may not be the largest web hosting company, but its size is nothing to scoff at. With more than 500 employees spread across multiple offices globally, they have a dedicated team working round the clock to ensure customer satisfaction. They have data centers strategically located in different regions, including the United States, Europe, and Asia-Pacific.
Who They Serve
SiteGround caters to a wide range of customers, from personal bloggers and small businesses to large enterprises. Whether you're just starting out or need advanced hosting solutions, SiteGround offers plans suitable for various needs. Their flexible options make it easy for anyone to find the right hosting package.
What Are They Best Known For?
One thing that sets SiteGround apart from its competitors is its exceptional customer support. They pride themselves on offering fast response times and knowledgeable assistance through various channels like live chat, phone support, and ticketing system. Customers can rely on their expertise when facing any technical difficulties or inquiries.
Another area where SiteGround excels is their focus on security measures. They employ proactive monitoring tools to detect potential threats and offer free daily backups for added peace of mind. They implement advanced security features like custom firewall rules and account isolation techniques to protect websites from cyber attacks.
How They Differentiate from Competitors
SiteGround stands out by providing an optimized hosting environment specifically tailored for popular content management systems (CMS) like WordPress, Joomla!, Drupal, and Magento. With SiteGround, you can plan your website's hosting needs according to your preferred CMS. Their platform includes features such as automatic updates for CMS installations, caching systems for improved performance, and staging environments for testing website changes.
Furthermore, SiteGround's commitment to speed is evident through their integration with the Cloudflare content delivery network (CDN). This partnership allows websites hosted on their platform to benefit from faster loading times and enhanced security. By leveraging cutting-edge technologies, SiteGround ensures that websites perform optimally and provide an excellent user experience.
Highlight Their Reputation and Experience
Over the years, SiteGround has built a strong reputation for its reliable hosting services. They have received numerous accolades and positive reviews from industry experts and customers alike. Their commitment to quality and innovation has earned them recognition as one of the leading web hosting providers in the market.
Key Features and Benefits
Essential Features for Your Website
SiteGround offers a range of essential features that can greatly benefit website owners. Let's take a closer look at some of these key features:
Free SSL: SiteGround provides free SSL certificates to ensure secure communication between your website and its visitors. This not only helps protect sensitive information but also boosts your website's credibility.
Daily Backups: With SiteGround, you don't have to worry about losing valuable data. They automatically create daily backups of your website, allowing you to easily restore it in case anything goes wrong.
Unlimited Email Accounts: Whether you're running a personal blog or managing multiple businesses, SiteGround allows you to create unlimited email accounts with your own domain name. This gives your brand a more professional image and makes it easier to manage communication.
Fast Loading Times and High Uptime Guarantee
One of the standout benefits of using SiteGround is its commitment to providing fast loading times and high uptime for your website. Here's why this matters:
Fast Loading Times: Slow-loading websites can be frustrating for visitors and may result in higher bounce rates. SiteGround utilizes advanced technologies like SSD storage, NGINX servers, and the latest PHP versions to ensure that your website loads quickly, providing a seamless user experience.
High Uptime Guarantee: SiteGround guarantees an impressive 99.9% uptime for your website. This means that your site will be accessible to visitors almost all the time, minimizing any potential downtime that could impact user engagement or sales.
Advanced Features for Enhanced Functionality
SiteGround doesn't stop at offering essential features; they also provide advanced tools that can take your website to the next level:
Staging Environments: If you're making significant changes or updates to your website, SiteGround's staging environments allow you to test them out first without affecting the live site. This ensures a smooth transition and minimizes the risk of errors or downtime.
Git Integration: For developers, SiteGround offers seamless Git integration, allowing for easy collaboration and version control. This feature enables you to work on different branches, merge changes, and roll back if needed, making website development more efficient.
How These Features Benefit Website Owners
The features offered by SiteGround provide numerous benefits for website owners:
Improved Security: With free SSL certificates and daily backups, SiteGround helps protect your website from potential threats and data loss.
Enhanced User Experience: Fast loading times ensure that visitors can navigate your site quickly and easily, increasing engagement and reducing bounce rates.
Pros
Excellent Performance in Speed and Uptime
SiteGround is known for its exceptional performance. With their advanced infrastructure and use of cutting-edge technologies, they ensure that websites hosted on their platform load quickly and remain accessible to users at all times. This is crucial for any website owner as a slow-loading site can lead to a poor user experience and lower search engine rankings. SiteGround's commitment to delivering fast loading times and high uptime rates makes them an excellent choice for businesses or individuals looking for reliable hosting.
User-Friendly Interface for Beginners
One of the standout features of SiteGround is its user-friendly interface, particularly beneficial for beginners who may not have much technical expertise. The intuitive control panel allows users to easily manage their websites, install applications like WordPress with just a few clicks, and access essential features such as email accounts, domain management, and file management. The simplified interface ensures that even those new to web hosting can navigate through the platform effortlessly.
Strong Emphasis on Security Measures
SiteGround places a strong emphasis on security measures to protect websites hosted on their platform from potential threats. They employ proactive monitoring systems that constantly scan for malware or suspicious activities, ensuring early detection and prevention of any security breaches. SiteGround regularly updates their software and server configurations to stay ahead of emerging vulnerabilities. These security measures provide peace of mind to website owners who can focus on their business without worrying about potential cyber threats.
Positive Customer Reviews About Customer Support
SiteGround has garnered positive customer reviews regarding the quality of their customer support team. Their support staff is highly knowledgeable, responsive, and dedicated to resolving customer queries promptly. Whether it's through live chat, phone calls, or tickets submitted via the support portal, SiteGround's support team ensures that customers receive timely assistance whenever needed. This level of customer support is invaluable for website owners who may encounter technical issues or require guidance in managing their hosting accounts.
Cons
While SiteGround offers many benefits, it's important to consider some limitations and drawbacks before making a decision. Let's take a closer look at the cons of using SiteGround as your hosting provider.
Limited Storage Space on Lower-Tier Plans
One limitation to be aware of is that lower-tier plans on SiteGround come with limited storage space. This means that if you have a website with large files or require significant storage capacity, you may need to upgrade to a higher-tier plan. It's essential to evaluate your storage needs and choose a plan accordingly.
Limited Data Centers Compared to Other Providers
SiteGround has data centers located in multiple regions around the world, but it may have fewer options compared to some other hosting providers. While they do have data centers in strategic locations like the United States, Europe, Asia-Pacific, and Australia, there might be fewer choices available for certain regions. If having a wide range of data center options is crucial for your website's performance or target audience, it's worth considering this aspect.
Advanced Features Only Available on Higher-Tier Plans
Some advanced features offered by SiteGround are only available on their higher-tier plans. While their entry-level plans provide excellent basic functionality, if you require more advanced tools or services such as staging environments or priority support, you will need to opt for one of their premium plans. It's essential to assess your specific requirements and determine whether these advanced features are necessary for your website.
Slightly Higher Pricing Compared to Other Hosting Providers
When comparing pricing among different hosting providers, you may find that SiteGround's costs are slightly higher than some competitors. While they offer exceptional service quality and reliability, it's important to consider your budget when choosing a hosting provider. Take into account the cost-effectiveness of SiteGround based on the specific services and features they offer.
Hosting Pricing Plans & Services
SiteGround offers a variety of hosting plans and services to cater to different needs and budgets. Whether you're looking for shared hosting, cloud hosting, or dedicated hosting, SiteGround has got you covered.
Shared Hosting Plan
SiteGround's shared hosting plan is perfect for individuals or small businesses who are just starting out. With this plan, you can host one website and enjoy essential features such as:
Free SSL certificate for secure browsing
Daily backups to keep your data safe
Unlimited email accounts
24/7 customer support
The shared hosting plan starts at $6.99 per month, but SiteGround often offers discounts and promotions, so keep an eye out for those.
Cloud Hosting Plans
If you need more power and scalability, SiteGround's cloud hosting plans are worth considering. They offer three different tiers: Entry, Business, and Business Plus. These plans come with advanced features like:
Dedicated IP address for improved performance
SuperCacher technology for faster loading times
Priority support from the technical team
The Entry plan starts at $80 per month, while the Business and Business Plus plans start at $120 and $160 per month respectively.
Dedicated Hosting
For websites that require maximum performance and control, SiteGround's dedicated hosting is the way to go. With a dedicated server all to yourself, you can expect top-notch features including:
Full server management by SiteGround experts
Choice of server location (US or Europe)
Advanced security measures to protect your data
High-performance hardware for optimal speed
Dedicated hosting plans start at $269 per month.
In addition to these main hosting options, SiteGround also provides specialized services tailored to specific needs:
WordPress Hosting
SiteGround offers managed WordPress hosting solutions designed specifically for WordPress websites. These plans include automatic updates, enhanced security measures, and specialized caching technologies to optimize WordPress performance.
WooCommerce Hosting
For online stores powered by WooCommerce, SiteGround offers hosting packages that are optimized for e-commerce. These plans come with features like one-click installation of WooCommerce, advanced caching options, and PCI compliance for secure transactions.
Additional Services
Apart from hosting plans, SiteGround also provides additional services such as domain registration or transfer. You can easily register a new domain or transfer an existing one to SiteGround for a seamless website setup experience.
Performance & Security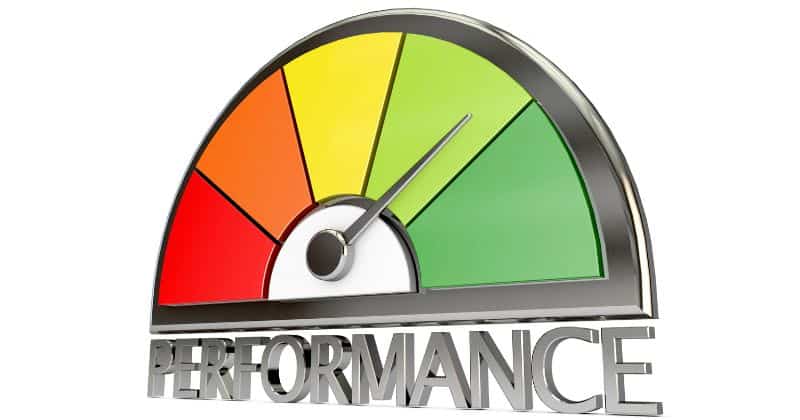 SiteGround is known for its exceptional performance and robust security features. Let's delve into the key aspects that make SiteGround a reliable hosting choice.
Uptime & Speed
Uptime and speed are crucial factors. SiteGround boasts an impressive uptime guarantee of 99.9%, ensuring that your website remains accessible to visitors around the clock. With their state-of-the-art infrastructure and advanced technologies, they prioritize delivering optimal performance.
To enhance loading times, SiteGround utilizes SSD drives instead of traditional HDDs. These solid-state drives offer faster data retrieval, resulting in quicker website loading speeds. This means that your visitors won't have to wait long for your site to load, reducing bounce rates and improving user experience.
SiteGround also employs a custom caching system called SuperCacher. This powerful tool stores frequently accessed content in memory, allowing for lightning-fast delivery of web pages to users. By leveraging this technology, you can significantly boost your site's performance and ensure a smooth browsing experience for your audience.
Security Features
Security is a top priority at SiteGround, and they provide an array of robust features to safeguard your website from potential threats.
One notable security measure is their proactive backup system. SiteGround performs daily backups of your data, ensuring that you have the ability to restore your site quickly in case of any unforeseen events or data loss.
SiteGround offers free SSL certificates with every hosting plan. SSL (Secure Sockets Layer) encryption protects sensitive information transmitted between users' browsers and your website server. Having an SSL certificate on your site not only secures data but also boosts trust among site visitors as they see the padlock symbol indicating a secure connection.
To further fortify security measures, SiteGround partners with Cloudflare—a leading content delivery network (CDN) provider—to offer additional protection against DDoS attacks and other malicious activities. Cloudflare acts as a shield, filtering out harmful traffic and ensuring your website remains online and accessible.
Data Center Locations
SiteGround has strategically placed their data centers across the globe to optimize performance and provide reliable hosting services. They currently have data centers in six locations: the United States, the United Kingdom, the Netherlands, Germany, Singapore, and Australia. By choosing a data center closest to your target audience, you can minimize latency and deliver content faster to visitors in that region.
Customer Support & Satisfaction
SiteGround takes customer support seriously, providing multiple options for users to seek assistance. With their 24/7 availability via phone, chat, and ticket system, users can easily reach out for help whenever needed. The ease of use and accessibility of their support services have garnered positive feedback from many satisfied customers.
One aspect that stands out is SiteGround's fast response times. Users have reported quick resolutions to their issues, allowing them to get back to running their websites smoothly. This promptness in addressing concerns contributes to a positive user experience and ensures minimal disruption for site visitors.
The knowledgeable support staff at SiteGround also plays a crucial role in delivering excellent customer service. They are well-equipped with the technical expertise required to assist users effectively. Customers appreciate the helpfulness of the support team, as they go above and beyond to provide solutions and guidance.
For those who prefer self-help options, SiteGround offers an extensive knowledge base and tutorials. These resources empower users to troubleshoot common issues on their own without relying solely on customer support. Small businesses or individuals managing their online stores can benefit greatly from these self-help materials.
Moreover, SiteGround understands the importance of uptime for businesses operating online. Their uptime guarantee ensures that websites hosted on their platform remain accessible to visitors consistently. This reliability is crucial for maintaining a positive user experience and preventing any potential loss in revenue due to website downtime.
SiteGround's commitment to customer satisfaction extends beyond just technical support. They offer a 30-day money-back guarantee, allowing users to try out their services risk-free. This policy demonstrates confidence in the quality of their hosting solutions while giving customers peace of mind when making a decision.
Alternative Host Providers
SiteGround is undoubtedly a popular choice. However, it's always wise to explore alternative hosting providers to ensure you find the best fit for your needs. Let's take a look at some other well-known hosting options in the market and briefly discuss their key features and advantages.
Comparing Features and Pricing
Bluehost: Bluehost is another highly reputable web host known for its reliability and excellent customer support. It offers a range of hosting plans suitable for different types of websites, from small blogs to large e-commerce sites. Bluehost provides native CDN integration and offers seamless scalability as your site grows.
HostGator: HostGator is a widely recognized name in the hosting industry and offers affordable plans with robust features. With its easy-to-use interface and one-click WordPress installation, it's an excellent choice for beginners. HostGator also provides a free website builder tool, making it convenient to create stunning websites without any coding knowledge.
DreamHost: DreamHost stands out with its commitment to sustainability by powering all its data centers with renewable energy sources. It boasts fast load times and reliable performance, ensuring your visitors have an optimal browsing experience on your site. DreamHost also offers unlimited storage and bandwidth on all its plans.
Performance, Support, and Pricing Comparison
While these alternative hosts have their own unique strengths, let's compare them to SiteGround in terms of performance, customer support, and pricing:
Performance: SiteGround has gained recognition for its exceptional speed and uptime guarantees due to its advanced infrastructure powered by Google Cloud Platform (GCP). Its servers are optimized for high performance across various locations worldwide.
Customer Support: SiteGround prides itself on offering top-notch customer support with 24/7 availability via live chat or phone calls. Their knowledgeable support team ensures prompt assistance whenever you encounter any issues.
Pricing: SiteGround's pricing plans are competitive and offer excellent value for the features they provide. However, it's important to compare pricing against other providers to ensure you're getting the best deal.
Final Verdict
In conclusion, SiteGround is a highly reliable and feature-rich web hosting provider. With its impressive performance, robust security measures, and excellent customer support, it stands out as a top choice for individuals and businesses alike. SiteGround offers a range of hosting plans to suit different needs and budgets, ensuring that users can find the perfect fit for their websites. The company's commitment to providing exceptional service is evident in its high customer satisfaction rates.
If you're looking for a web hosting provider that combines speed, reliability, and top-notch support, SiteGround should definitely be on your radar. Its user-friendly interface makes it easy to navigate even for beginners, while advanced users will appreciate the flexibility and control offered by features like staging environments and Git integration. With SiteGround's strong emphasis on security and regular updates to keep your website safe from threats, you can have peace of mind knowing that your online presence is well-protected.
FAQs
Can I transfer my existing website to SiteGround?
Transferring an existing website to SiteGround is feasible and supported. The company offers a free website migration service for one site on most of its plans, handled by its expert team. SiteGround also provides a WordPress Migrator plugin for users who prefer to conduct the migration themselves.
Does SiteGround offer a money-back guarantee?
SiteGround provides a 30-day money-back guarantee for its shared hosting plans and a 14-day guarantee for cloud hosting plans. This allows customers to test the service risk-free. Refunds typically exclude domain names and other third-party services purchased through SiteGround.
Can I host multiple websites on one account?
The ability to host multiple websites on one account varies by hosting provider and plan. For example, SiteGround's GrowBig and GoGeek plans allow for hosting multiple websites under a single account. However, their basic StartUp plan is limited to hosting a single website. Choose a plan accordingly based on your needs.
What kind of customer support does SiteGround provide?
SiteGround offers a range of customer support options, including 24/7 live chat, phone support, and a ticketing system. The company is known for its prompt response times and knowledgeable support staff. Additionally, SiteGround provides an extensive knowledge base for self-guided troubleshooting.
Does SiteGround provide SSL certificates?
SiteGround offers free Let's Encrypt SSL certificates for all its hosting plans to ensure website security. These SSL certificates encrypt data transfer between a user's browser and the server. Automatic installation and renewal are also provided for added convenience.
Is SiteGround reputable?
SiteGround enjoys a strong reputation for reliability and performance, particularly in the WordPress community. It offers features like free daily backups, high uptime rates, and robust customer support. The company is also officially recommended by WordPress.org, enhancing its credibility.
Is SiteGround a Russian company?
SiteGround is not a Russian company; it was founded in Sofia, Bulgaria, in 2004. The company has a global presence with data centers in multiple countries, including the United States, United Kingdom, and Singapore. It is widely recognized for its web hosting services and customer support.
What are the disadvantages of SiteGround?
SiteGround's plans can be more expensive compared to other hosting services, especially upon renewal. Additionally, it imposes limitations on storage and data transfer for lower-tier packages. Some users also report a complex interface, potentially posing challenges for beginners.
Which is better SiteGround or GoDaddy?
SiteGround is often praised for its superior customer support and optimized performance for WordPress. GoDaddy, on the other hand, offers a broader range of services, including domain registration and business email. The choice between the two largely depends on your specific hosting needs and preferences.