Choosing between Square and Squarespace for your online business needs can be a pivotal decision. Each platform offers distinct features and benefits tailored to different types of entrepreneurs and business models. Understanding their unique offerings is key to determining which one aligns best with your business goals.
Table of Contents
As a longtime digital marketer with extensive experience in e-commerce, I have closely analyzed both Square and Squarespace. Square excels in point-of-sale solutions and is ideal for businesses with a significant physical presence, while Squarespace shines with its robust website building and hosting capabilities, catering to those prioritizing a strong online presence. This expertise allows me to offer insights into how each platform can effectively address specific business requirements.
Keep reading, and you'll understand how Square and Squarespace differ regarding e-commerce integration, ease of use, customization options, and pricing. This comparison will equip you with the necessary information to make an informed decision that best supports the growth and scalability of your business.
Key differences between Square and Squarespace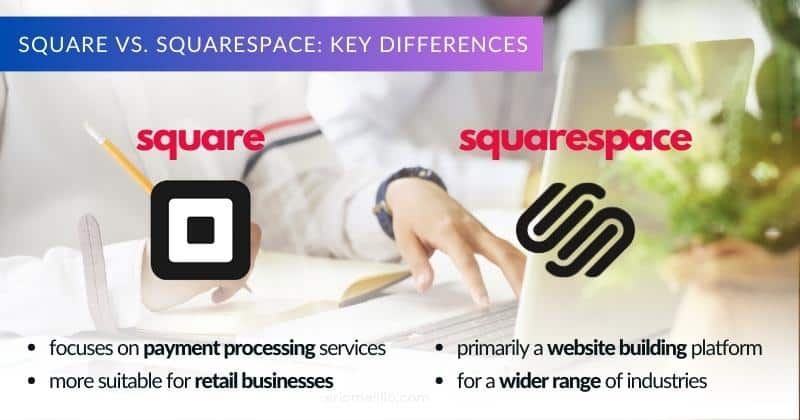 Focus and Purpose
Square and Squarespace are two distinct platforms that serve different purposes. Square primarily focuses on payment processing services, providing solutions for businesses to accept online and in-person payments. On the other hand, Squarespace is primarily a website building platform that offers tools and templates for creating professional websites.
Target Audience
While Square is more suitable for retail businesses, Squarespace caters to a wider range of industries. Square's emphasis on payment processing makes it an ideal choice for brick-and-mortar stores or businesses with physical locations. It provides features such as point-of-sale solutions, inventory management, and customer relationship management (CRM) tools tailored specifically for retail operations.
Squarespace, on the other hand, is designed to meet the needs of various industries beyond just retail. It offers customizable templates and intuitive design tools that cater to artists, photographers, bloggers, small businesses, and professionals from diverse fields who want to establish an online presence.
Online vs In-Person Presence
One key distinction between Square and Squarespace lies in their primary focus: Square specializes in providing in-person point-of-sale (POS) solutions, while Squarespace is primarily an online platform.
Square's POS system enables businesses to accept payments at their physical store locations through various methods like credit cards or mobile wallets. It also offers features such as inventory management, sales analytics, employee management, and customer loyalty programs.
In contrast, Squarespace focuses on helping users build visually appealing websites with easy-to-use drag-and-drop functionality. It provides a range of features, including customizable templates, domain hosting services, e-commerce capabilities through its "Commerce" plans (known as "Squarespace Commerce"), SEO optimization tools, blogging functionalities ("Squarespace Blog"), email marketing integration ("Squarespace Email Campaigns"), appointment booking options ("Acuity Scheduling" integration), and more.
Integration with Square Online Store
While Square and Squarespace serve different purposes, it is worth mentioning that Squarespace does offer integration with Square's online store functionality. This means that businesses using Squarespace can leverage the benefits of both platforms by utilizing Square for payment processing while building their website on Squarespace.
Users can seamlessly accept payments through their online store by integrating Square with a Squarespace website. This integration provides a convenient solution for businesses combining Squarespace's design capabilities with Square's payment processing features.
Comparison of features and functionalities
Detailed breakdown of the features offered by both platforms
Square and Squarespace are two popular platforms offering various features to help businesses succeed online. Let's take a closer look at the features provided by each platform.
Squarespace offers a variety of options. It provides users with an intuitive website builder for easy customization and design. With Squarespace, you can create stunning websites without any coding knowledge. It offers powerful analytics tools that provide valuable insights into your website's performance.
On the other hand, Square focuses more on commerce features. It is primarily known for its robust point-of-sale system, allowing businesses to accept in-store or online payments seamlessly. Square also offers inventory management tools, making it easier for businesses to keep track of their products.
Highlighting unique features exclusive to each platform
Squarespace has several unique features that set it apart from Square. One notable feature is its blogging capabilities. Squarespace provides a user-friendly interface for creating and managing blog posts. It also includes built-in SEO tools to optimize your blog content for search engines.
On the other hand, Square offers some extra features specifically tailored toward ecommerce businesses. One such feature is its product pages. With Square, you can easily create visually appealing product pages that showcase your offerings effectively. This can be particularly beneficial for businesses looking to sell products online.
Exploring how these features can benefit different types of businesses
The diverse range of features offered by both platforms caters to different types of businesses.
Squarespace's user-friendly website builder and comprehensive analytics tools can be highly advantageous for small businesses or individuals looking to establish an online presence with minimal effort. Whether you're a photographer showcasing your portfolio or a restaurant promoting your menu, Squarespace provides the necessary tools for creating an attractive and functional website.
Where, Square's focus on commerce features makes it an excellent choice for businesses heavily relying on selling products. With its point-of-sale system and inventory management tools, Square streamlines the process of accepting payments and managing inventory. This can greatly benefit retail stores, restaurants, and online retailers.
Pricing plans and value for money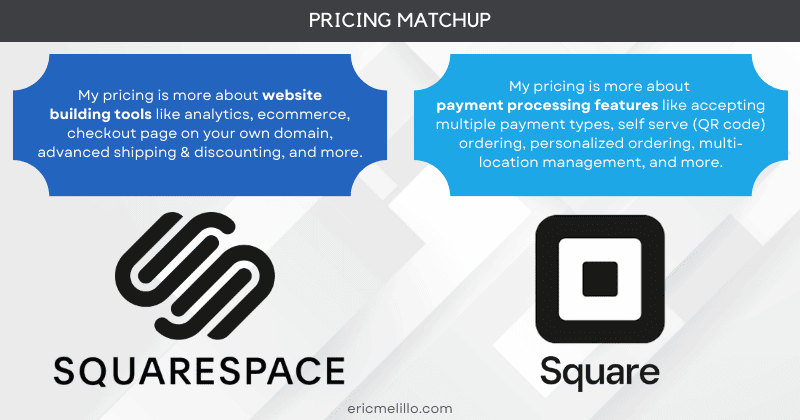 Comparison of pricing structures
When considering which platform to choose between Squarespace and Square, comparing their pricing structures is important. Squarespace offers four main pricing plans: Personal, Business, Basic Commerce, and Advanced Commerce. The Personal plan starts at $12 per month, while the Business plan costs $18 per month. For those looking for e-commerce capabilities, the Basic Commerce plan is priced at $26 per month, and the Advanced Commerce plan is available for $40 per month.
While Square offers a range of pricing options tailored specifically for different business types, they have a Free plan that allows businesses to use their services without any upfront costs. They offer a paid plan called Square for Retail that starts at $60 per month. This plan includes advanced features such as multi-location management and employee timecards.
Evaluating the value provided
To determine the value for money offered by each platform's pricing tiers, it's essential to consider the features included in each plan.
Squarespace's Personal plan provides a basic website with essential features like SSL security and 24/7 customer support. The Business plan offers additional marketing features, such as email campaigns and pop-ups, to help drive traffic and engage customers.
The Basic Commerce plan allows users to access advanced e-commerce tools like product options and integrated payments. Finally, the Advanced Commerce plan provides more extensive sales features like abandoned cart recovery and real-time carrier shipping.
Square's Free plan provides businesses with essential tools like online payments and invoicing without monthly fees or commitments. Their Square for Retail plan includes comprehensive point-of-sale features such as inventory management, customer profiles, and sales reports.
Identifying cost-effectiveness based on individual needs
Determining which platform offers better cost-effectiveness depends on individual business requirements. If you're primarily focused on creating an aesthetically pleasing website with basic functionality, Squarespace's Personal plan may be a suitable and affordable option.
For businesses looking to expand their online presence and engage in e-commerce, Squarespace's Basic Commerce plan offers various features at a reasonable price. However, if you're seeking more advanced retail capabilities like inventory management and sales reporting, Square's Square for Retail plan may provide better value for money.
It's important to consider factors such as the size of your business, specific marketing needs, and desired payment processes when evaluating the cost-effectiveness of each platform. Conducting a thorough analysis of your requirements will help determine which platform aligns best with your budget and provides the most value for your money.
User-friendliness and ease of use
Assessing both platforms' user interface and navigation experience is crucial when comparing Squarespace and Square. Both platforms strive to provide an intuitive and user-friendly experience for their customers.
Such as drag-and-drop functionality; Squarespace and Square offer powerful tools allowing users to create stunning websites without coding knowledge. Users can customize the layout with just a few clicks: add images, videos, and text to their web pages.
Squarespace takes pride in its sleek and modern design templates that cater to various industries. These highly customizable templates allow users to create unique websites that reflect their brand identity.
Square offers a more streamlined approach with its website builder. While it may not have as many design options as Squarespace, it still provides users with the necessary tools to build a professional-looking website.
Customer Service
Another aspect of user-friendliness is customer support. Both platforms understand the importance of providing excellent customer service to ensure a smooth user experience.
Squarespace offers 24/7 customer support via live chat or email. Their knowledgeable support team is readily available to assist with any questions or technical issues users may encounter during the website building process. Squarespace has an extensive help center with tutorials and guides for self-help.
Square also offers customer support through various phone, email, and social media channels. They have a dedicated support team that can guide users through any challenges they may face while using their services.
Mobile Friendliness
Furthermore, mobile accessibility is vital in today's digital landscape. Users expect seamless access to their website builder tools from anywhere.
Squarespace provides a mobile app that allows users to manage their websites on the go. This feature enables quick updates and edits without needing access to a computer.
Square also recognizes the need for mobile access and offers a mobile app for its customers. This app allows users to manage their websites and provides additional features such as online ordering and inventory management.
SEO and marketing tools comparison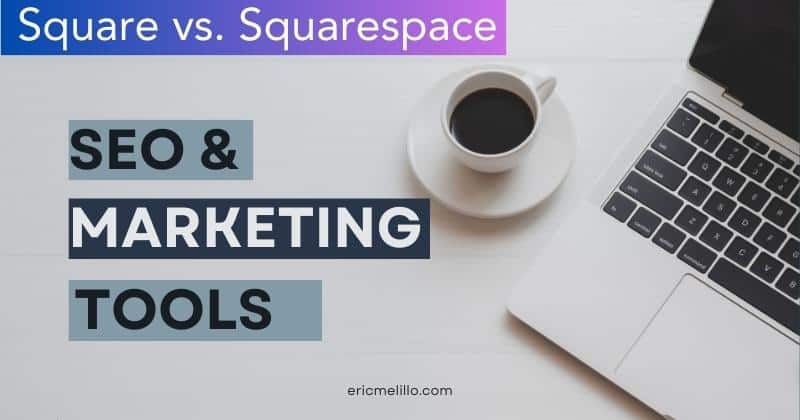 Search Engine Optimization Capabilities
Both Square and Squarespace offer tools to help improve your website's visibility on search engines. Square provides basic SEO features, such as customizable page titles, meta descriptions, and URL structures. These elements are crucial for optimizing your website's content and making it more appealing to search engines.
On the other hand, Squarespace takes SEO a step further by offering advanced features like automatic sitemap generation, clean HTML markup, and responsive designs. These features contribute to better indexing by search engines and improved ranking potential.
Pros of Square's SEO capabilities:
Customizable page titles, meta descriptions, and URLs for better optimization.
Suitable for small businesses or individuals looking for simple yet effective SEO tools.
Cons of Square's SEO capabilities:
Limited advanced features compared to Squarespace.
May not be suitable for businesses with complex SEO needs or those targeting highly competitive keywords.
Pros of Squarespace's SEO capabilities:
Advanced features like automatic sitemap generation and clean HTML markup.
Responsive designs that enhance the user experience across different devices.
Cons of Squarespace's SEO capabilities:
Can be overwhelming for beginners due to the abundance of options.
May require some technical knowledge to utilize all the available features fully.
Marketing Tools Analysis
Regarding marketing tools offered by Square and Squarespace, both platforms provide various options to promote your business online. Square offers email marketing campaigns that allow you to send newsletters or promotions directly to your customers' inboxes. It integrates with social media platforms like Facebook and Instagram, enabling you to reach a wider audience through targeted advertising.
Squarespace also offers email campaigns but goes beyond that by providing built-in analytics tools. These tools allow you to track the performance of your marketing efforts in real time. Furthermore, Squarespace integrates seamlessly with popular social media platforms, making sharing your content and engaging with your audience easier.
Pros of Square's marketing tools:
Email marketing campaigns for direct customer communication.
Social media integration for targeted advertising.
Cons of Square's marketing tools:
Limited analytics capabilities compared to Squarespace.
May not be as comprehensive for businesses with extensive marketing needs.
Pros of Squarespace's marketing tools:
Built-in analytics tools for tracking campaign performance.
Seamless integration with social media platforms for wider reach.
Cons of Squarespace's marketing tools:
Can be overwhelming due to the abundance of options.
May require some technical knowledge to utilize all the available features fully.
Which Platform is Better for Digital Marketing Success?
When comparing Square and Squarespace in terms of SEO and marketing tools, it ultimately depends on your specific business needs. If you are a small business or someone looking for simplicity and ease of use, Square may be a suitable choice. It offers basic SEO features and essential marketing tools like email campaigns and social media integration.
On the other hand, if you require advanced SEO capabilities and comprehensive marketing features, Squarespace might be the better option. Its advanced SEO features, built-in analytics tools, and seamless social media integration provide more opportunities for digital marketing success.
Choosing the Right Platform: Square vs. Squarespace
Factors to Consider
When deciding between Square and Squarespace, there are several factors you should consider:
Business Needs
Square: Primarily known for advanced commerce features and seamless integration with physical stores. Ideal for businesses with brick-and-mortar locations or offline sales. Offers robust point-of-sale (POS) systems, inventory management tools, and payment processing solutions.
Squarespace: Renowned for user-friendly website building capabilities and aesthetically pleasing templates. Ideal for businesses prioritizing a visually appealing online presence or requiring a blog platform alongside their e-commerce store. Intuitive drag-and-drop interface allows for website design without coding knowledge.
Website Building
Square: Limited design flexibility compared to Squarespace. Basic website building features through its partnership with Weebly.
Squarespace: Extensive library of templates, drag-and-drop interface, and advanced design customization options.
Scalability and Growth Potential
Square: Various scalability options, including advanced reporting features, customer relationship management (CRM) tools, and integrations with third-party applications.
Squarespace: Ample room for growth with its extensive range of add-ons and extensions.
Considerations for Your Business
Business Needs: Evaluate your primary objectives. Do you prioritize advanced commerce features or a visually appealing website with a blog platform?
Scalability: Choose a platform that can accommodate your business's growth. Consider reporting capabilities, CRM tools, and third-party integrations.
Long-term Goals: Align your platform choice with your future vision. Assess which platform better supports your business's anticipated growth and expansion.
Remember, the right platform depends on your unique business requirements and aspirations. Carefully evaluate each option and make an informed decision that aligns with your strategic goals.
Your Turn
Summing up the key differences between Square and Squarespace, it's evident that each platform excels in distinct areas. Your choice should be guided by whether you need Squarespace's advanced web design features or Square's streamlined payment processing capabilities.
Remember, it's not just about choosing a service; it's about selecting a partner that aligns with your business goals. Whether it's Squarespace's design finesse or Square's transactional prowess, pick the one that best fits your needs. Take a moment to assess your priorities and make an informed choice. Your business deserves a platform that meets and enhances your operational needs.
FAQs
Can I sell products online using Square?
Square offers robust e-commerce solutions allowing you to create an online store and sell products directly from your website or social media channels.
Can I use my own domain name with Squarespace?
With Squarespace, you can easily connect your own domain name or purchase one directly through their platform.
Does Square charge transaction fees?
Square charges transaction fees for credit card processing services. The fees vary depending on the type of transaction and payment method used.
Can I customize the design of my Squarespace website?
Squarespace provides a wide range of customizable templates and design options, allowing you to create a unique and visually appealing website that aligns with your brand.
Does Square offer inventory management tools?
Square offers robust inventory management features that enable you to track and manage your products, set alerts for low stock levels, and generate reports for better business insights.