In this comprehensive IONOS review, we will delve into the offerings of one of the leading web hosting providers in the industry. Choosing the right web hosting provider is crucial for the success of your website, and this review aims to provide valuable insights to aid in your decision-making process.
IONOS has gained popularity and a solid reputation among businesses and individuals alike. With a wide range of features and services, they cater to various website needs. This unbiased analysis will walk you through our methodology, including the types of tests performed and tools used during the review process.
If you're looking for an honest assessment of IONOS's performance, reliability, customer support, and overall value for money, look no further. Join us as we explore whether IONOS is indeed the right choice for your website needs.
We evaluate web hosting providers based on our review guidelines and the key criteria of – performance, reliability, support, and pricing.
To measure performance, we conduct speed tests and analyze traffic handling capabilities.
For reliability, we monitor uptime records over an extended timeframe.
We thoroughly evaluate customer support by monitoring public channels such as Twitter, Google reviews, BBB, Trustpilot, and Facebook groups. This allows us to assess each hosting provider's customer service responsiveness, reputation, and satisfaction levels.
We compare pricing tiers to provide accurate cost information. Our team of experts performs hands-on research and analysis. We are committed to providing transparent, unbiased reviews.
Overview of IONOS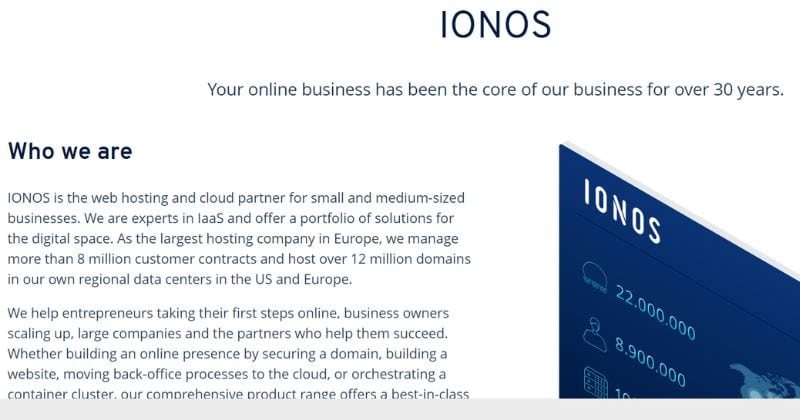 Background, History, and Mission
IONOS is a prominent company that has been providing web hosting and cloud services since its inception in 1988. With over 8 million customers worldwide, they have established themselves as a leading provider in the industry. Their mission is to simplify the complexities of technology and empower businesses to thrive online.
Company Size and Statistics
IONOS boasts an impressive infrastructure that includes 10 data centers across Europe and the United States. They employ over 2,000 experts who are dedicated to delivering top-notch solutions for their customers. Their extensive network ensures reliable performance and excellent service.
Who They Serve
IONOS caters to a wide range of customers, including small businesses, entrepreneurs, developers, and enterprises. Whether you're just starting out or managing a large-scale operation, IONOS offers scalable solutions tailored to meet your specific needs. They understand the diverse requirements of different industries and provide specialized services accordingly.
What Are They Best Known For?
IONOS is best known for its comprehensive suite of services that cover every aspect of online presence management. From domain registration to website building tools, email marketing to e-commerce solutions, they offer an all-in-one platform for businesses to establish their digital footprint successfully.
How They Differentiate from Competitors
What sets IONOS apart from its competitors is their commitment to simplicity and user-friendliness. They prioritize ease-of-use without compromising on functionality or performance. Their intuitive control panel makes it effortless for users to manage their websites and applications effectively.
Another key differentiator is IONOS's emphasis on customer support. They provide round-the-clock assistance through various channels such as phone, live chat, and email. Their knowledgeable support team is always ready to address any queries or issues promptly.
Highlighting Reputation and Experience
With over three decades of experience in the industry, IONOS has built a solid reputation for reliability and expertise. They have received numerous accolades and awards for their innovative solutions and exceptional customer service. Their extensive customer base is a testament to the trust and satisfaction they have garnered over the years.
Key Features and Benefits
Essential Features for Your Online Presence
IONOS offers a range of essential features that can greatly enhance your online presence. One standout feature is the unlimited storage and bandwidth provided by IONOS. This means you don't have to worry about running out of space or experiencing slow loading times, even if your website or business grows significantly. With this feature, you can confidently upload as much content as you need without any restrictions.
Another key feature offered by IONOS is its easy scalability. Whether you have a simple website or a complex business model, IONOS provides plans that cater to different needs. The Essential plan is perfect for those starting out with a simple website, while the Top plan offers advanced functionality for more demanding websites. No matter which plan you choose, IONOS ensures that scaling up or down is a seamless process, allowing your online presence to grow alongside your business.
Unique Features That Set IONOS Apart
In addition to its essential features, IONOS also offers unique functionalities that set it apart from its competitors. One such feature is the Website Builder tool provided by IONOS. This user-friendly tool allows even those with no coding experience to create professional-looking websites in just a few clicks. With customizable templates and drag-and-drop functionality, building a stunning website has never been easier.
Furthermore, IONOS understands the importance of security for your online presence. That's why they offer SSL certificates as part of their packages. An SSL certificate ensures that data transmitted between your website and visitors remains encrypted and secure, giving both you and your users peace of mind.
Benefits for Your Online Presence
The combination of these features gives IONOS users several benefits for their online presence:
Enhanced Performance: With unlimited storage and bandwidth, your website will load quickly and efficiently regardless of its size or traffic volume.
Improved Scalability: As your online presence grows, IONOS allows you to easily upgrade your plan or add additional features to meet your evolving needs.
Professional Website Design: The Website Builder tool enables you to create visually appealing and functional websites without the need for technical expertise.
Secure Data Transmission: With SSL certificates, your website visitors can trust that their data is protected during interactions with your site.
With these benefits, choosing IONOS is an excellent choice for individuals and businesses looking to establish a strong online presence.
Pros
Reliable Uptime Guarantee
IONOS is known for its reliable uptime guarantee, ensuring that your website remains accessible to visitors around the clock. With a robust infrastructure and advanced server technology, IONOS boasts an impressive uptime record, minimizing any potential downtime that could impact your online presence.
User-Friendly Interface
Navigating through the IONOS platform is a breeze, thanks to its user-friendly interface. Whether you are a beginner or an experienced user, you'll find it easy to manage your web hosting needs with their intuitive control panel. From setting up email accounts to managing domain settings, IONOS streamlines the process for a seamless user experience.
Robust Security Measures
Security is of utmost importance. IONOS takes this seriously by implementing top-notch security measures to protect your website and data. They offer features such as SSL certificates and DDoS protection to safeguard against cyber threats and ensure the privacy of your visitors' information.
Integration with Popular CMS Platforms
If you're using popular Content Management Systems (CMS) like WordPress or Joomla, IONOS seamlessly integrates with these platforms. This integration allows for easy installation and management of CMS-based websites. With just a few clicks, you can have your website up and running on these widely-used platforms.
Free Domain Name Registration
One of the perks of choosing IONOS is the option for free domain name registration. When signing up for their Expert Plan, you can register a domain name at no additional cost. This not only saves you money but also simplifies the process of getting your website live by having all services conveniently bundled together.
Scalability Options
As your business grows, so should your website's hosting capabilities. IONOS offers scalability options that allow you to easily upgrade or downgrade your hosting plan based on your evolving needs. This flexibility ensures that you have the resources required to support increased traffic and accommodate any future expansion.
Excellent Customer Support
IONOS prides itself on providing excellent customer support to its users. Their knowledgeable and friendly support team is available 24/7 via phone, email, or live chat to assist with any technical issues or answer your questions promptly. This level of support gives you peace of mind, knowing that help is just a click or call away.
Cons
Limited options for advanced customization
While IONOS offers a range of services and tools to meet the needs of different users, some may find that it has limited options for advanced customization. This means that if you have specific requirements or want to fine-tune certain aspects of your website or online presence, you may feel restricted by the available options within IONOS.
For example, if you are an experienced developer looking for more control over server configurations or access to advanced coding features, such as for an advanced ecommerce website, you may find that IONOS falls short in this regard. It is important to carefully consider your technical requirements and ensure that IONOS can provide the level of customization you need before committing to their services.
Competitors may outperform in specialized areas
While IONOS is a reputable hosting provider, there are competitors in the market who specialize in certain areas and may outperform IONOS in those specific domains. One such area is specialized WordPress hosting providers. These providers focus solely on hosting WordPress websites and offer tailored solutions with optimized performance and enhanced security specifically designed for WordPress users.
If you primarily use WordPress as your content management system (CMS) and require extensive support and features specifically built for WordPress websites, it might be worth exploring these specialized providers instead of relying solely on IONOS. They can offer additional benefits such as seamless integration with popular plugins, automatic updates, and expert knowledge of the platform.
Common complaints or concerns raised by users
It's essential to consider user feedback when evaluating any service provider. While opinions can vary widely, it's worth noting some common complaints or concerns raised by users about IONOS. These observations can help paint a clearer picture of potential drawbacks associated with using their services:
Contract terms: Some users have expressed dissatisfaction with contract terms offered by IONOS. It's important to review their contract policies thoroughly before making a commitment.
Control panel usability: A few users have reported difficulties navigating and using IONOS's control panel. This can be frustrating if you rely heavily on the control panel for managing your website.
Limited options for lower-tier accounts: Users on lower-tier accounts have mentioned feeling limited in terms of resources and features compared to higher-tier accounts.
Power and performance issues: A small percentage of users have experienced occasional power outages or performance issues with their websites hosted on IONOS.
While these concerns should be taken into account, it is important to remember that every user's experience may differ, and these issues may not be representative of the overall quality of service provided by IONOS.
Hosting Pricing Plans and Services
IONOS offers a range of hosting plans and services to cater to various needs. Let's take a closer look at what they have to offer.
Hosting Plans and Pricing
IONOS provides different pricing plans for web hosting, ensuring that there is an option suitable for every budget. Here are the key hosting plans available:
Shared Hosting: This is an excellent choice for individuals or small businesses looking to host their websites without breaking the bank. With shared hosting, multiple websites share resources on a single server, making it a cost-effective solution.
VPS Hosting: If you require more control and flexibility over your hosting environment, IONOS offers Virtual Private Server (VPS) hosting. With VPS hosting, you get dedicated resources within a virtualized environment, allowing for better performance and scalability.
Dedicated Servers: For those with high-traffic websites or resource-intensive applications, dedicated servers provide maximum power and control. With a dedicated server, you have exclusive access to all the resources of the server.
Each hosting plan comes with its own set of features and resources:
Storage Space: The amount of disk space provided determines how much data you can store on your website.
Number of Websites Allowed: Depending on the plan you choose, you may be able to host multiple websites under one account.
Bandwidth Allocation: The bandwidth allocation determines how much data can be transferred between your website and visitors each month.
Email Accounts: IONOS also offers email services as part of their hosting plans, allowing you to create professional email accounts using your domain name.
SSL Certificates: In today's digital landscape, security is crucial. IONOS provides SSL certificates that encrypt the connection between your website and visitors' browsers.
Website Backup Solutions: To safeguard against data loss or accidental changes, IONOS offers backup solutions that allow you to restore your website easily.
Additional Services
In addition to hosting plans, IONOS offers various additional services that you can purchase to enhance your website's functionality and security:
Domain Registration: You can register a domain name directly with IONOS or transfer an existing domain from another provider.
Website Builder: If you're new to website creation, IONOS provides a user-friendly website builder tool that allows you to create professional-looking websites without any coding knowledge.
WordPress Hosting: For those who prefer using WordPress as their content management system, IONOS offers specialized hosting packages optimized for WordPress websites. These plans often come with pre-installed WordPress software and additional features tailored for WordPress users.
Performance and Security
IONOS hosting offers excellent performance and robust security measures to ensure a reliable and secure hosting experience for its users.
Uptime
With IONOS, you can expect impressive uptime, meaning your website will be up and running smoothly without any significant downtime. This is crucial for businesses as it ensures that their online presence remains accessible to customers at all times. While IONOS does not explicitly mention an uptime guarantee, their reliable server infrastructure and network connectivity contribute to minimal interruptions in service.
Speed
Fast loading times are essential for a positive user experience. IONOS understands this importance and provides efficient hosting solutions that prioritize speed. Their state-of-the-art data centers, strategically located around the world, ensure optimal website performance by minimizing latency and reducing data transfer times. By leveraging powerful computing power and advanced caching techniques, IONOS helps websites load quickly across various devices.
Security Features
IONOS goes above and beyond to protect its users' websites from potential threats. Here are some of the notable security features provided:
Malware Protection: IONOS offers comprehensive malware protection tools that help detect and remove malicious software from your website.
DDoS Protection: DDoS attacks can disrupt website operations by overwhelming servers with traffic. With IONOS hosting, you benefit from robust DDoS protection mechanisms that mitigate such attacks effectively.
Regular Backups: Data loss can be devastating for any business or individual. To safeguard against this risk, IONOS performs regular backups of your website data, ensuring that you can easily restore previous versions if needed.
SSL Certificate: Secure Socket Layer (SSL) certificates encrypt the communication between your website visitors' browsers and your server. IONOS includes SSL certificates with their hosting plans to provide an added layer of encryption and boost user trust.
Stress Testing: To evaluate how well your website can handle high traffic loads, IONOS offers stress testing tools. This allows you to identify potential bottlenecks and optimize your site's performance accordingly.
2FA (Two-Factor Authentication): IONOS prioritizes account security by offering two-factor authentication. By enabling this feature, you add an extra layer of protection to prevent unauthorized access to your hosting account.
Data Center Locations
IONOS has an extensive network of data centers located in different regions worldwide. This global presence enables them to provide localized hosting services with reduced latency and improved performance for users across the globe. Whether your target audience is in North America, Europe, or Asia, IONOS ensures that your website content is delivered swiftly and efficiently.
Customer Support and Satisfaction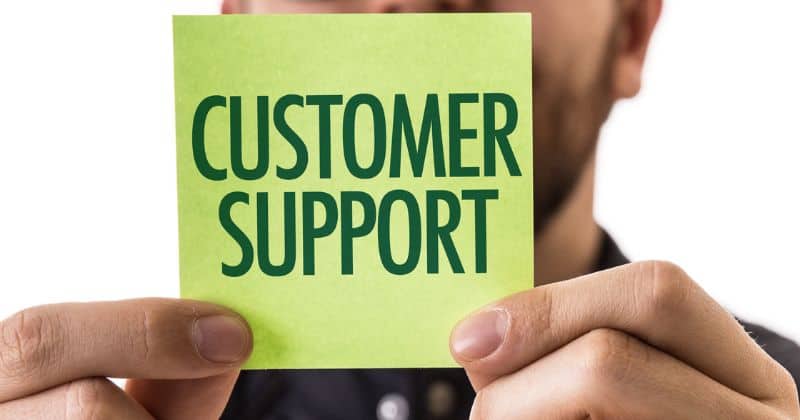 Support Options
IONOS offers a range of support options to ensure that their customers have access to assistance whenever they need it. Users can reach out to the customer service team through live chat, phone support, or by exploring the comprehensive knowledge base available on the IONOS website. These options provide users with different avenues to seek help based on their preferences and urgency of the issue.
Responsiveness and Availability
One aspect that sets IONOS apart is the responsiveness and availability of their support team. Customers often praise the promptness with which their queries are addressed, ensuring minimal downtime for their websites or online stores. The customer service team at IONOS is known for its efficiency in resolving issues quickly and effectively, providing users with peace of mind knowing that help is just a click or call away.
Positive Feedback from Satisfied Customers
Real user reviews highlight the positive experiences customers have had with IONOS' customer support. Many users express satisfaction with the level of assistance they received when facing technical challenges or needing guidance in setting up their websites or online stores. Testimonials often mention how helpful and knowledgeable the support staff is, making it easier for users to navigate any obstacles they encounter along their digital journey.
Handling Complaints and Ensuring Satisfaction
IONOS takes customer complaints seriously and strives to address them promptly. In cases where customers face issues or concerns, IONOS ensures that a dedicated team investigates and resolves these matters to ensure customer satisfaction. They understand that each customer's experience matters, which is why they go above and beyond to provide solutions tailored to individual needs.
Additional Help Options
In addition to traditional modes of support like live chat and phone support, IONOS also offers an extensive help center filled with resources such as tutorials, guides, FAQs, and troubleshooting articles. This comprehensive knowledge base serves as a valuable self-help resource for users who prefer finding solutions independently. The help center covers a wide range of topics, making it easier for users to find answers to their questions without having to reach out to support.
IONOS also offers a satisfaction guarantee, ensuring that customers are confident in their choice. If users are not satisfied with the service, they can take advantage of the money-back guarantee within a specified period. This additional layer of assurance demonstrates IONOS' commitment to customer satisfaction and confidence in the quality of their services.
Alternative Host Providers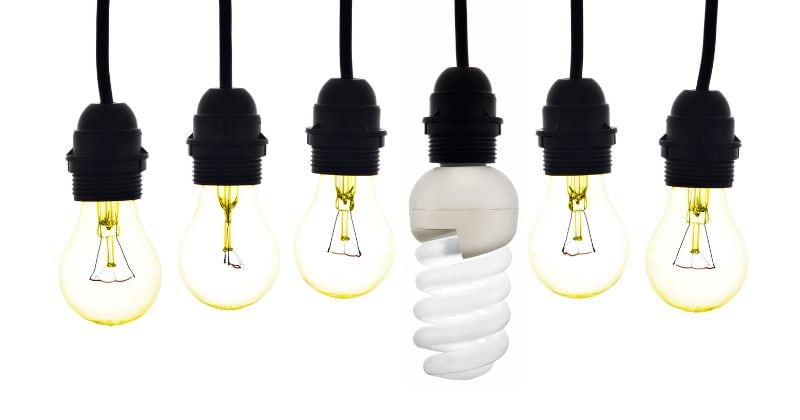 If you're considering web hosting providers and want to explore alternatives to IONOS, there are several options available that offer a range of features and pricing structures. Let's take a closer look at some alternative host providers that you may consider alongside IONOS.
Comparing Features against Competitors
When comparing features among different hosting providers, it's essential to evaluate what each provider offers in terms of performance, security, scalability, and ease of use. Some alternatives to IONOS that stand out for their unique features include:
Bluehost: Known for its excellent WordPress hosting capabilities, Bluehost offers a user-friendly interface and robust security measures. It also provides seamless integration with popular website builders.
SiteGround: With its focus on speed and reliability, SiteGround is an excellent choice for businesses seeking high-performance hosting solutions. It offers advanced caching techniques and built-in content delivery network (CDN) integration.
HostGator: HostGator is renowned for its affordable shared hosting plans and reliable customer support. It provides a range of hosting options suitable for both small businesses and larger enterprises.
Comparing Pricing against Competitors
Pricing is an important consideration when selecting a web host provider. While IONOS offers competitive pricing plans, it's worth exploring the pricing structures of alternative providers as well:
DreamHost: DreamHost stands out for its transparent pricing model without any hidden fees or upsells. They offer flexible plans suitable for various business needs.
A2 Hosting: A2 Hosting focuses on providing fast loading times and optimized performance at reasonable prices. They have multiple packages tailored to different types of websites.
InMotion Hosting: InMotion Hosting offers feature-rich plans at affordable rates, making it an attractive option for individuals or small businesses looking to establish an online presence.
Specialized WordPress Hosts or Cloud Hosting Providers
In addition to the general web hosting providers mentioned above, there are specialized hosts that cater specifically to WordPress websites or offer cloud hosting solutions:
WP Engine: WP Engine is a managed WordPress hosting provider known for its exceptional speed and security features. They handle all the technical aspects of running a WordPress site, allowing users to focus on their content.
DigitalOcean: DigitalOcean is a cloud infrastructure provider offering scalable and flexible hosting solutions. It allows developers to deploy and manage applications easily with their user-friendly interface and extensive documentation.
When considering these alternative host providers, it's important to note any notable differences in pricing structures or target audiences compared to IONOS. Take into account your specific needs, budget, and future growth plans before making a decision.
Final Verdict on IONOS hosting
After a comprehensive review of IONOS hosting, it is clear that this provider offers a range of impressive features and benefits. With competitive pricing plans and a variety of services to choose from, IONOS caters to the needs of both individuals and businesses alike. The performance and security measures implemented by IONOS are commendable, ensuring reliable hosting solutions for users. Their customer support team is readily available and dedicated to resolving any issues or concerns that may arise.
In conclusion, if you are looking for a reliable and feature-rich hosting provider, IONOS is definitely worth considering. Their commitment to performance, security, and customer satisfaction sets them apart in the market. Whether you are an individual blogger or a growing business, IONOS has the scalability and flexibility to meet your hosting needs. Don't miss out on the opportunity to experience top-notch hosting services with IONOS.
FAQs
Is IONOS trustworthy?
IONOS is a reputable domain registrar and hosting provider, established in 1988. It adheres to stringent data protection regulations and offers 24/7 customer support. With competitive pricing and a variety of value-added services, IONOS is considered a trustworthy option for domain registration and hosting.
Is GoDaddy better than IONOS?
GoDaddy offers a broad array of services and a wide selection of domain extensions, benefiting from its market prominence. IONOS, on the other hand, provides competitive pricing and value-added features like free email accounts and SSL certificates. Both companies offer 24/7 customer support. The choice depends on your specific requirements.
Is Wix or IONOS better?
Wix excels in website design flexibility and user-friendly drag-and-drop features, making it ideal for beginners. IONOS offers robust scalability and technical control, better suited for more experienced users. Both provide 24/7 customer support, but IONOS has more competitive domain pricing. Choose based on your specific needs.
Is IONOS a good domain registrar?
IONOS is a reputable domain registrar known for competitive pricing and a variety of domain extensions. It offers a range of value-added services like free email accounts and SSL certificates. Customer support is available 24/7, making it a reliable choice for domain registration.
Can I upgrade my hosting plan with IONOS?
Upgrading your hosting plan with IONOS is simple and straightforward. They offer flexible options for scaling up your resources as your website grows. You can easily upgrade your plan through their user-friendly control panel or by contacting their customer support team.
Does IONOS provide domain registration services?
In addition to hosting services, IONOS also offers domain registration. You can conveniently register a new domain or transfer an existing one to their platform. With competitive pricing and robust management tools, managing your domains becomes hassle-free with IONOS.
Is there a money-back guarantee with IONOS?
IONOS offers a 30-day money-back guarantee for certain services, including hosting plans and some domain registrations. This ensures customer satisfaction and risk-free testing of their services. Always refer to the specific terms and conditions, as the guarantee may not apply to all products.
Can I install popular CMS platforms like WordPress on IONOS hosting?
IONOS hosting supports the installation of popular CMS platforms, including WordPress. The company offers one-click installation features, making the setup process straightforward even for beginners. With 24/7 customer support and a variety of hosting plans, IONOS facilitates easy CMS deployment.
Does IONOS offer SSL certificates?
IONOS provides SSL certificates as a part of its hosting and domain services. These certificates enhance website security by encrypting data transmission between the server and user. Various types of SSL certificates are available, catering to different security needs. 24/7 customer support is provided for setup and management.