Uncover the power of Ghost, the modern blogging platform transforming how content creators share their stories and ideas.
Endorsed by experts and users, Ghost is praised for its:
User-friendly interface and intuitive design make it an excellent choice for beginners (findsupport.in).
Powerful SEO features, allowing easy setup of SEO-friendly URLs (norberthires.blog).
High recommendation as a "great investment for your website" (Product Hunt).
By the end of this post, you'll have a comprehensive understanding of Ghost's features, how to leverage them for your content creation, and why it's the preferred choice for many successful bloggers.
So, let's dive into the world of Ghost and discover how it can elevate your blogging experience. Imagine effortlessly creating, managing, and optimizing your blog posts all in one place. That's the power of Ghost, a platform redefining blogging as we know it.
Short Summary
Ghost is an open-source blogging platform with superior SEO, site speed, and performance.
It offers content creation/management features, customizations to create a unique visitor experience, integrations & API access, and a membership system for monetization.
Ghost provides native SEO features and enhanced speed/performance through CDNs for successful blogs.
Understanding the Ghost Blogging Platform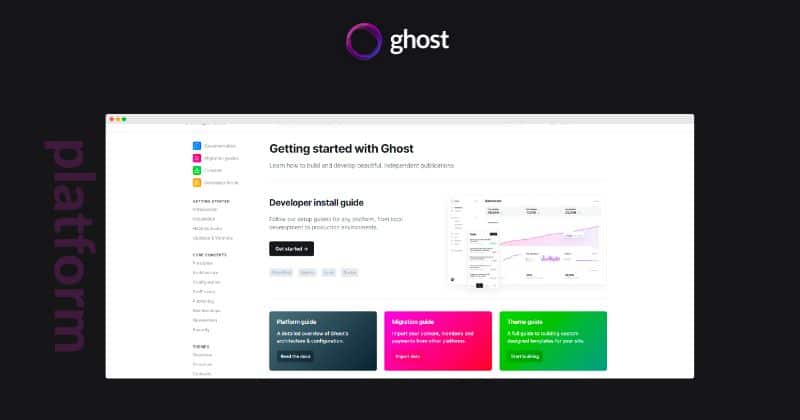 Ghost is a modern and powerful platform designed for creating and monetizing content. The platform enables users to have their own custom domain and offers a straightforward blogging experience with various advanced features to help build an impressive online presence.
The Ghost Foundation, a non-profit organization, was established by John O'Nolan and Hannah Wolfe in April 2013 to assist with the open-source Ghost blogging platform. They developed Ghost as an alternative to WordPress, offering bloggers a different experience with superior SEO, impressive site speed, and excellent performance.
The Ghost Foundation
The Ghost Foundation's primary objective is to support the further development and growth of the open-source Ghost blogging platform.
"With Ghost, we envisioned a platform that would offer a simpler, more focused experience for bloggers, media, and newsletters."

John O'Nolan and Hannah Wolfe.
Today, the Ghost Foundation continues to work towards its mission of providing a powerful and user-friendly platform to help content creators thrive in the ever-evolving digital landscape.
Ghost vs. WordPress: Key Differences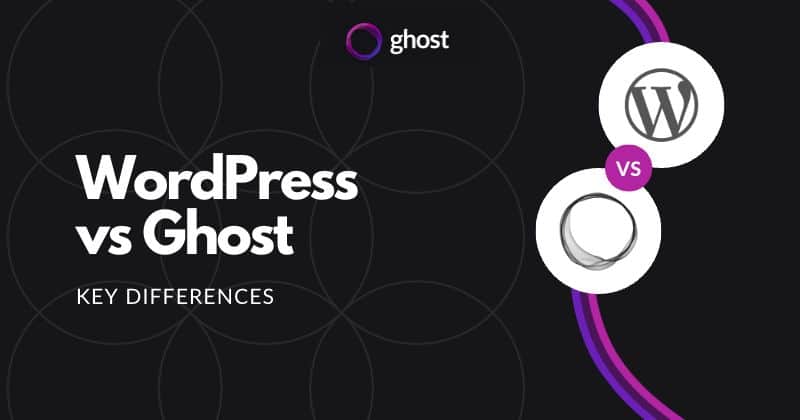 While both Ghost and WordPress are popular choices for creating a blog or business website, they cater to different needs and offer distinct features and benefits.
WordPress is renowned for its user-friendly interface and is the most widely-used website building platform, with nearly a quarter of websites and blogs built on it.
On the other hand, Ghost is designed to provide a simple, fast, and efficient writing experience, with a standout feature being a range of formatting options. Ghost also offers SEO and performance benefits compared to other CMS platforms:
Built-in SEO capabilities
Faster loading speeds
Ghost is smaller, faster, and more secure than WordPress, requiring less time and effort to create an enjoyable reading experience for your audience.
Here's a comparison to highlight their key differences:
| Benchmark | Ghost | WordPress |
| --- | --- | --- |
| Focus | Provides a simple, fast, and efficient writing experience | Known for user-friendly interface and extensive customization options |
| Standout Feature | Built-in SEO capabilities and faster loading speeds | Massive plugin and theme ecosystem |
| Overall Performance | Smaller, faster, more secure, requiring less time and effort to create an enjoyable reading experience for your audience | More versatile but potentially slower and requires more maintenance |
Setting Up Your Ghost Blog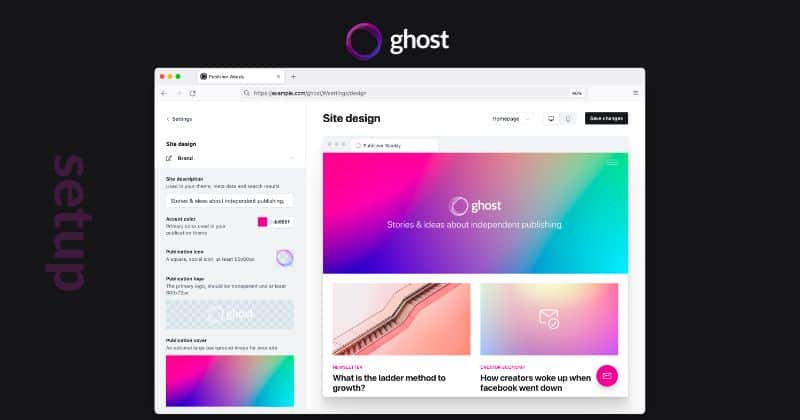 Setting up a blog on Ghost is a straightforward process with two main options:
Self-hosting
Using the hosted platform (Ghost Pro)
Regardless of your option, the setup process is quite simple, allowing you to focus on what's important – creating great content for your blog.
"If you ever encounter any difficulties while configuring your Ghost blog, their help center and community forums are valuable resources to assist you in resolving any issues."
Self-Hosted Version
The self-hosted version of the Ghost Blogging Platform involves hosting the Ghost software on your own server, computer, or Raspberry Pi, giving you complete control over the production environment. This option can be more cost-effective than opting for a Ghost Pro plan initially, especially considering the size of your email list.
However, one should be aware of potential challenges that may arise from self-hosting, such as:
Intermittent downtime
The need for a Ghost restart
While the self-hosted version of Ghost offers more control and customization options, it also requires more technical knowledge and maintenance than the hosted platform (Ghost Pro).
Hosted Platform (Ghost Pro)
Ghost Pro is the hosted version of Ghost, offering a range of plans starting at $11/month. With Ghost Pro, you can enjoy simplified setup and customization, effortless maintenance, and the opportunity to focus on content creation.
In comparison to the self-hosted version, the only significant feature you may relinquish with Ghost Pro is:
The Zapier integration used to share your articles on social media automatically
The ability to use premium themes with certain plans
By opting for Ghost Pro, you save time on setup and maintenance and gain access to various features and support to ensure your blog runs smoothly and efficiently.
Creating and Managing Content with Ghost Editor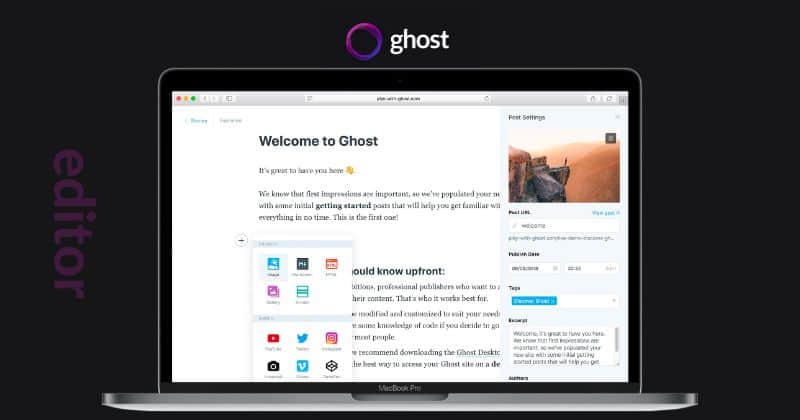 Ghost Editor is an intuitive and user-friendly tool allowing you to easily create and edit blog posts. It offers options for both visual editing and markdown, providing flexibility in formatting and publishing your content.
Furthermore, Ghost Editor enables you to embed images and content from other websites and customize the settings for publishing your posts, giving you full control over the presentation and distribution of your content.
In addition to content creation, Ghost provides users with a range of team management features. It allows multiple team members to manage and create new posts on a site, with five layers of permissions:
Owner
Administrator
Editor
Author
Contributor
This robust feature set makes Ghost an ideal platform for collaborative projects or businesses with multiple content creators.
Markdown and Visual Editing
Markdown is a lightweight markup language that you can use to create formatted text using a plain-text editor. It utilizes punctuation characters to format text, such as asterisks for bold and dashes for lists, making it simple and efficient. With Ghost, you can use Markdown in addition to the visual editor, providing you with greater flexibility in formatting your content.
"The benefits of using Markdown in Ghost are numerous: it's simple to use, efficient, and allows bloggers to focus on writing rather than wrestling with complex formatting tools."
Content Embedding and Social Sharing
Ghost excels not only in content creation but also in content embedding and social sharing. You can easily embed content from platforms like:
YouTube
Twitter
Instagram
Vimeo
Spotify
You can also embed images directly within your blog posts. This enhances your content's visual appeal and interactivity, offering your readers a richer experience.
In addition to content embedding, Ghost offers powerful social sharing features. You can easily share your blog posts on platforms like Twitter, Facebook, and LinkedIn, enabling your content to reach a wider audience and attract more readers to your blog.
Customizing Your Ghost Blog
Customizing your Ghost blog is easy with the platform's support for custom themes and integrations and API access for custom development. Whether you want to modify the appearance of your blog or integrate with various services for improved functionality, Ghost provides the flexibility and tools you need to create a unique and personalized blogging experience.
From modifying your blog's theme using HTML, CSS, and JS to creating a new custom theme or downloading one from the Ghost Marketplace, you have a range of options to customize your blog's appearance and functionality completely.
"Ghost provides the flexibility and tools you need to create a unique and personalized blogging experience."
Custom Themes
Custom themes in Ghost are templates that can be employed to alter your blog's aesthetic and user experience. The default theme in Ghost's editor is Casper, which provides a clean and modern design suitable for a wide range of blogs.
However, if you wish to personalize your blog's appearance further, you can explore premium themes available through Fueko or other theme providers, with prices ranging from $19 to $149.
Casper: The default Ghost theme, known for its clean and modern design.
Premium Themes: Available through Fueko and other providers for further personalization. Prices range from $19 to $149.
Using custom themes, you can create a unique look and feel for your blog, ensuring it stands out from the crowd and resonates with your target audience.
Integrations and API
Ghost offers integrations with various services, such as Stripe for payments, ChartMogul for business metrics, and social media platforms, to help enhance your blog's functionality and performance. Additionally, it has an API that facilitates custom integrations, providing developers with a comprehensive suite of tools and libraries to build upon the Ghost platform.
Stripe: For payments
ChartMogul: For business metrics
Social Media Platforms: For wider reach and engagement
With these integrations and API access, you can expand your blog's capabilities, streamline your workflows, and provide a better experience for your readers.
Monetizing Your Blog with Ghost's Membership System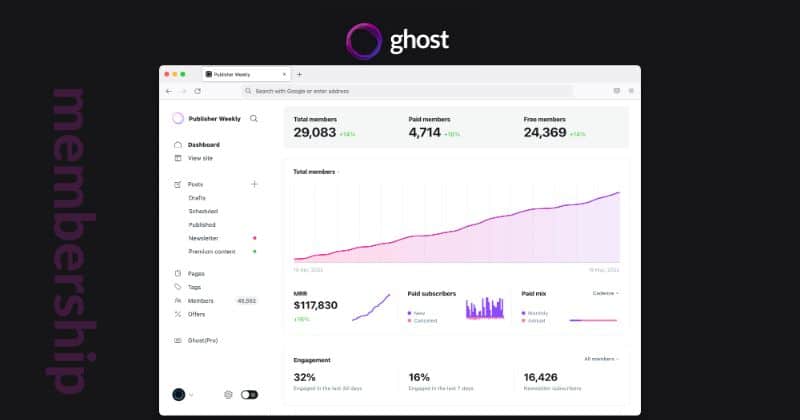 Monetizing your blog is easy with Ghost's membership system, which integrates with Stripe for secure payment processing. This feature lets you offer exclusive content to paying members, generate recurring revenue through paid site subscriptions, and create member-only communities or protected comments.
By utilizing Ghost's membership system, you can generate a dedicated readership, provide exclusive content, and secure a steady income stream, making it an ideal platform for professional bloggers and online publications.
"By utilizing Ghost's membership system, you can generate a dedicated readership, provide exclusive content, and secure a steady income stream…"
Memberships and Subscriptions
Ghost provides a range of membership and subscription options to cater to different needs and revenue goals. These memberships allow you to cultivate a dedicated readership, provide exclusive content, and generate recurring revenue through subscriptions.
Ghost offers three methods of running memberships:
Free
Paid only
Paid and Free
The membership functionality offered by Ghost CMS enables you to create exclusive content and charge a monthly fee for access, create subscription plans, and offer discounts to your readers. This feature allows you to effectively monetize your blog and generate a steady income from your content.
Stripe Integration
Stripe is an online payment processing platform that enables small businesses everywhere to accept payments and manage their operations digitally. It integrates seamlessly with Ghost, allowing you to set up and manage your Stripe account easily, and provides various features, including recurring payments and subscription management.
Stripe's offerings include:
Pricing customization options
Security features
Fraud protection
Data encryption
Two-factor authentication
Secure payment gateway
Compliance with PCI DSS standards
With these features, you can rest assured that your blog's payment processing is in good hands.
SEO and Performance Advantages of Ghost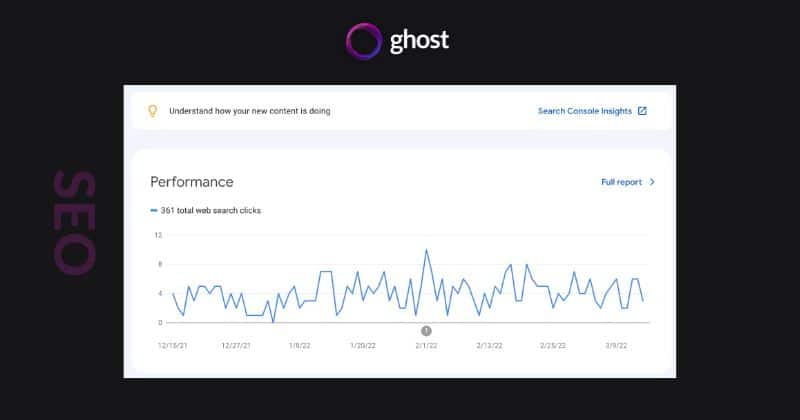 Ghost stands out among CMS platforms like WordPress and Joomla, offering numerous SEO and performance advantages. Its native SEO features drive your blog's search engine visibility, drawing more traffic to your site, while its superior speed and performance ensure a smooth user experience, fostering reader engagement and retention.
Native SEO Features
Ghost boasts a variety of native SEO features:
Automatic RSS feeds and sitemaps: Streamlining the crawling and indexing of your site by search engines.
Customizable themes: Providing aesthetic and functional flexibility.
Meta tags: Helping to describe your page's content.
Canonical URLs: Prevent duplicate content issues.
Social media cards: Enhancing your content's presentation on social platforms.
Image alt tags: Assisting with image indexing and accessibility.
These tools ease your website's optimization for search engines, enhancing user experience and ultimately driving traffic and engagement to your blog.
"By utilizing Ghost's built-in SEO tools, you can optimize your website for search engines and enhance the overall user experience for your readers."
Speed and Performance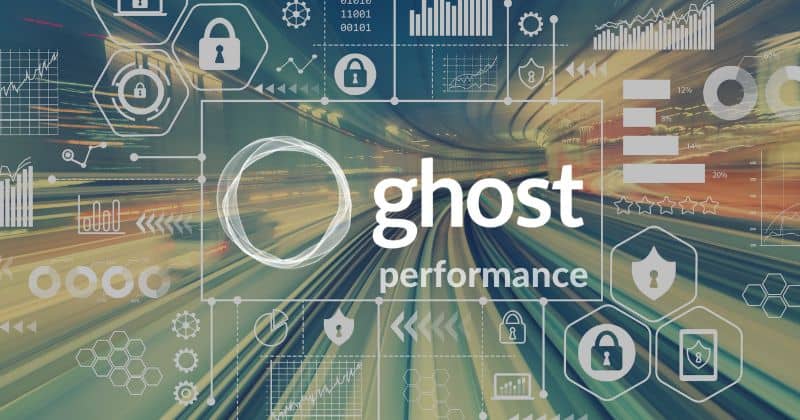 Ghost's superior speed and performance set it apart from other CMS platforms. Its faster loading times promise a smooth and enjoyable experience, keeping your readers engaged and encouraging future visits.
A critical factor contributing to Ghost's impressive performance is its integration with Content Delivery Networks (CDNs). By minimizing the distance between the user and the nearest server, CDNs boost website load times, making your blog globally accessible and enjoyable.
Summary
Ghost is a robust and versatile blogging platform offering writers an alternative to traditional platforms like WordPress. Its user-friendly editor, customizable themes, integrations, and native SEO features enable the easy creation and monetization of engaging content.
Whether a professional blogger or a novice, Ghost equips you with the tools and support to build a successful online presence and captivate your audience.
Frequently Asked Questions
Is Ghost blogging platform free?
Ghost blogging platform offers a free, open-source version for self-hosting and premium plans for managed hosting services starting at $9/month. However, the self-hosted version requires users to handle setup, updates, and maintenance independently.
Can you make money from Ghost blog?
You can profit from a Ghost blog through membership subscriptions, sponsored content, or affiliate marketing. Ghost offers built-in tools to set up, manage, and accept payments for premium content from subscribers, maximizing your blog's earning potential.
Is Ghost good for blogging?
Ghost is an excellent choice for blogging as it offers a clean, minimalist interface, fast loading times, and robust SEO functionality. Designed specifically for content creators, it streamlines the writing process, allows for easy monetization, and promotes a clutter-free reading experience for users.
Which is better WordPress or Ghost?
Choosing between WordPress and Ghost depends on your needs: WordPress is versatile and supports numerous plugins, making it suitable for complex websites. On the other hand, Ghost excels in simplicity, speed, and ease of use, making it ideal for bloggers and content-focused websites.