Starting a blog on Tumblr might seem simple, but there's more than meets the eye. It's not just a platform for sharing thoughts; it's a tool that can effectively launch or enhance your business.
Facing challenges like selecting the right theme or integrating social media is normal. As a pro blogger, I've personally encountered and overcome these issues, so rest assured that this guide will offer you actionable advice to resolve them.
Understanding how to start a blog on Tumblr is crucial whether you want to showcase your art or reach a larger audience across various blogging platforms. Now, let's get down to the details to set you up for success.
What is Tumblr?
Tumblr is a microblogging and social networking platform founded in 2007 by David Karp. Users can post multimedia content in a short-form blog format. It offers customizable themes, reblogging, and various post types such as text, photos, videos, and links. It was acquired by Automattic in 2019.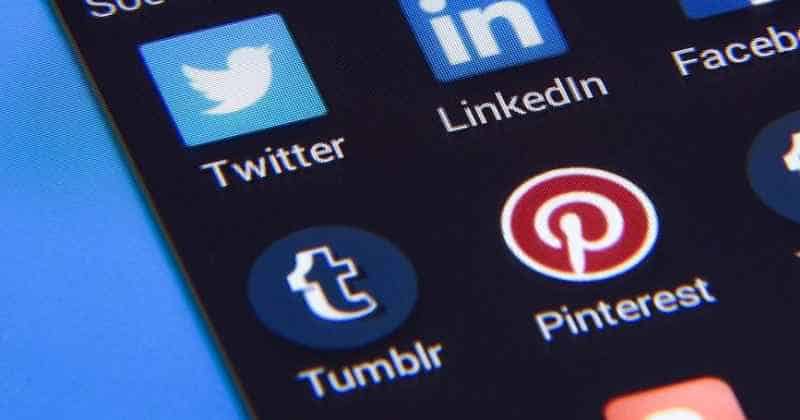 Create Your Tumblr Account
To begin your Tumblr journey, follow these simple steps to create an account and start exploring the platform:
Visit Tumblr or Download the App: Navigate to the Tumblr website (https://www.tumblr.com/) using your preferred web browser or download the Tumblr app on your mobile device from the App Store (iOS) or Google Play Store (Android).
Click Sign Up: On the Tumblr homepage or within the mobile app, locate the "Sign Up" button or link. Click on "Sign Up" to initiate the account creation process.
Select a Sign-Up Method: Choose one of the available options to sign up. Register using an email address, create a password, select a username, or sign up using an existing social network account (such as Google or Apple).
Enter Details: If signing up with an email address, provide a valid email, create a secure password, and select a unique username that reflects your identity. If signing up with a social network, follow the on-screen prompts to authorize access.
Complete Registration: Click the button to complete the registration process and create your Tumblr account.
With your Tumblr setup, you can customize your blog, create and publish content, and start engaging with the vibrant Tumblr community. Whether you're interested in sharing your own creative work, professional writing, reblogging posts from others, or connecting with like-minded individuals, Tumblr offers a versatile platform to express yourself and interact with others.
Find Blogs and Explore Tumblr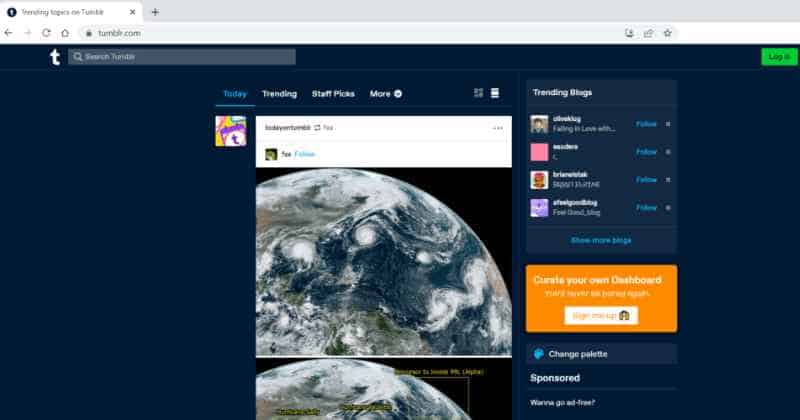 Exploring the dynamic world of Tumblr is an exciting way to discover blogs you enjoy and gather inspiration for your own content. To search Tumblr, use the search bar in the top right-hand corner to look for keywords, hashtags, and topics that align with your interests.
Navigating the Explore Page and Following Blogs
Tumblr's Explore page, accessible via the compass icon on your dashboard or at Tumblr.com/explore, curates posts and blogs centered around specific themes. Choose five or more topics that captivate you, and Tumblr will curate a feed tailored to your interests. When you discover a blog that resonates with you, click the "Follow" button to add its posts to your Home Feed.
Gaining Inspiration from Recommendations
Tumblr's "Recommended For You" section at the top of your screen introduces you to blogs and posts similar to those you follow. This personalized feature is an excellent way to discover new content and gather inspiration.
By actively exploring and following blogs, you'll cultivate a rich Tumblr experience, fuel your creativity, and gain insights into building a successful blog that reflects your unique voice.
Tumblr Dashboard: Customize Your Blog Theme and Options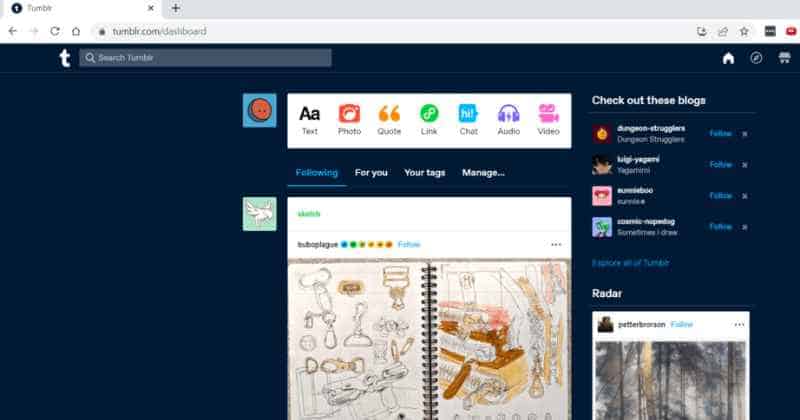 Tumblr setup is a breeze, and you can begin by personalizing its appearance. Head to the Tumblr dashboard and select the blog you want to customize. Click "Customize" in the right column, followed by "Edit Appearance."
In this customization panel, you can choose a theme, edit HTML, and adjust various appearance settings to tailor your blog's look. Connect your Tumblr account to your Facebook or Twitter accounts to extend your reach, allowing your posts to be shared seamlessly on those social networks.
Free Themes and Paid Themes
When choosing a theme, consider one that will best reflect the feel of your topic. For example, if you are blogging about photography, a minimalistic grid theme might work better than a one or two-column theme.
Additionally, you may want to consider downloading a free or premium theme so you can customize it to fit your blog's unique style. To install a new theme, click the user account icon at the top of the Tumblr dashboard, then click your blog's name and Edit Appearance in the right-hand menu.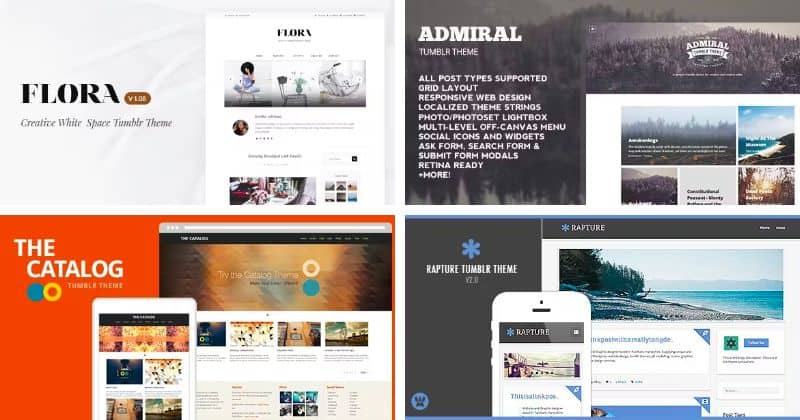 In addition to changing the theme, you can customize your blog title, avatar, background color, tags, titles, pictures, and other components. For example, you can add a profile photo, blog title, and description to the mobile header. You can create a custom URL for your new blog, such as "www.yourblog.com." Additionally, you can enable comments on your blog by integrating Disqus into your theme.
You can create a unique and personalized Tumblr blog that reflects your interests and style by customizing your theme and options. You will want to ensure that your blog stands out from other blogs on the platform, which will help you gain followers.
As you explore Tumblr, you can gain inspiration from other users' blogs and start to create your own customized Tumblr blog. Using the few tips and tricks outlined in this guide, you can have a successful Tumblr blog up and running quickly!
Mastering Content Creation and Sharing on Your Tumblr Blog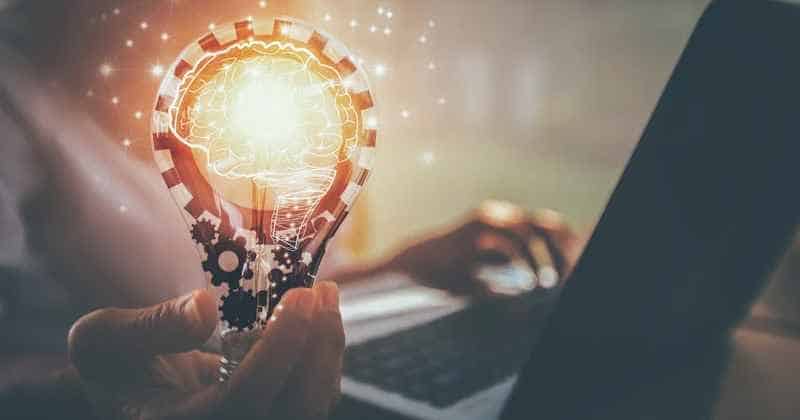 With your Tumblr account set up and your blog theme customized, it's time to create content.
To create content, click the pencil icon next to your profile picture, and craft your first post. Engage with the community by liking, reblogging, and messaging users. This proactive interaction builds rapport with new accounts, attracts followers, and establishes your presence.
Discovering the Types of Content on Tumblr
Tumblr offers versatile content formats to suit your creative expression and easily post text, photos, quotes, links, chats, audio, and videos. As a new Tumblr user, exploring the platform and observing the diverse content that resonates with the community is valuable.
Pay attention to the presentation, style, and themes that captivate other Tumblr bloggers. These insights will inform the direction of your own content creation.
Crafting Compelling Content for Your Audience
Equipped with inspiration from previous posts and the Tumblr community, you're ready to create compelling content for your audience. When crafting a new post, you can add a captivating title, an attention-grabbing header image, and your blog name for branding.
To maximize visibility, utilize relevant tags that align with the content, making it discoverable by users interested in similar topics. Consider sharing your Tumblr posts on other social networks to broaden your reach. Cross-platform sharing increases the chances of attracting a diverse audience and gaining more followers.
Prioritizing Quality and Presentation
The success of your Tumblr blog relies on quality content that sparks engagement and resonates with your audience. Strive to create intriguing, visually appealing, and thoughtfully crafted content. Prioritize authenticity and creativity to make a lasting impression and earn followers.
Consider investing in premium themes with enhanced customization options and a polished appearance to elevate your blog's presence. A professional-looking blog encourages user interaction and contributes to building a dedicated following.
By consistently delivering quality content and fostering a unique style, you're well on your way to establishing your own name and a thriving Tumblr blog that captivates your audience.
Interact With Users and Their Posts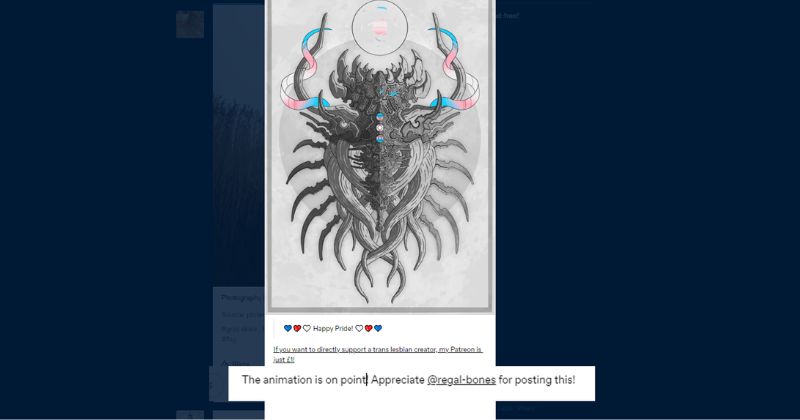 Interacting with other users and their posts is an important part of the Tumblr experience. When you first sign up for a Tumblr account, you can search for other users and blogs through the search bar at the top of the page.
This will allow you to find other users who have recently created their own blogs and their most popular posts. By exploring what's being posted, you can understand the type of content you should create for your own blog.
Search Tumblr
Search Tumblr to discover and connect with compelling sites by liking content and choosing to reblog posts that resonate with you. As you reblog posts, you enhance your blog's visibility and attract new followers. Foster meaningful engagement by leaving thoughtful comments, sending direct messages, and following fellow creators, thus strengthening your presence within the vibrant Tumblr community.
Additionally, you can promote your blog by using hashtags and reblogs. This can help get your content discovered by other users and increase engagement. It is important to remember to use relevant hashtags when posting content and to remain consistent with your interactions. This will help ensure that people see your content, and you can start to earn Tumblr followers.
You can increase your visibility and engagement on Tumblr by consistently interacting with other user posts. Interacting with Tumblr users and their posts is important in creating content for the blogging platform. Exploring other sites and engaging with users can help create connections within Tumblr and promote your own posts and work. It is important to remember always to post your own work and be active in the Tumblr community to gain followers and increase engagement.
Consistently Interact With Individual Posts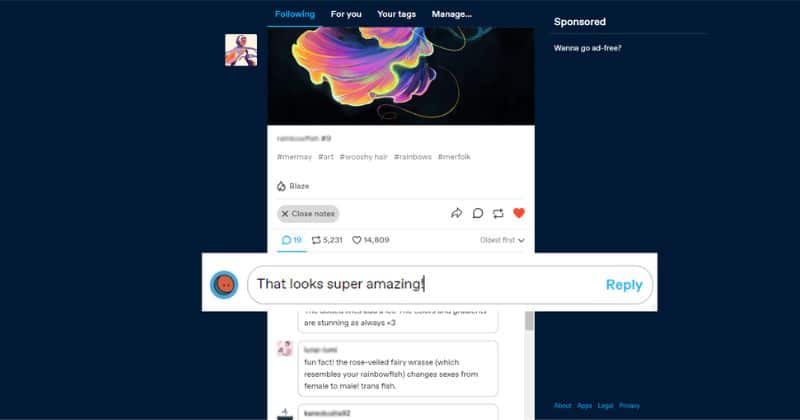 Interacting with individual posts on Twitter is an important part of building an audience and engaging with other users. When you find a post that catches your eye, there are several ways to interact with it. You can comment on the original post, reblog it with your caption (via reblog icon), or like it to show appreciation. You can also message the user directly if you have any questions about their post.
When commenting on a Tumblr post, you can type in your thoughts or reply to other comments that have already been left. You can also use the comment box to ask questions, provide additional insight, or start a discussion. If you reblog a post, you can customize the caption and include your thoughts or images. You can also customize the post's header, title, and blog name to make the post look the way you want it.
To show appreciation for a post without commenting or reblogging it, click the like icon (heart). This will add your like to the Tumblr post and its search results and may even help it reach a larger audience. You can also use the reblog icon to share users' posts on your blog. This will help you connect with other users and create a network of Tumblr followers.
Promote Your Blog and Amplify Your Reach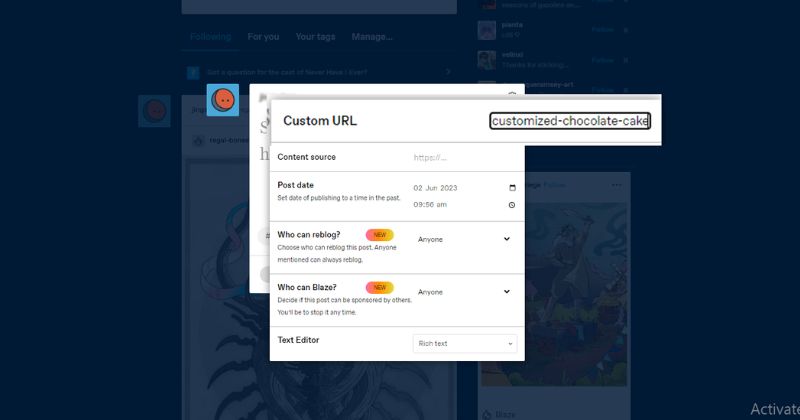 A successful Tumblr blog thrives on consistent interaction and visibility. Reblogging, utilizing hashtags, and sharing posts on social media amplify your reach. Consider Tumblr ads to promote your blog's URL to a broader audience.
To promote your blog, there are a few steps you can take.
Firstly, you should make sure your blog is discoverable using SEO techniques such as keyword research and custom permalinks.
Secondly, you should consistently interact with other blogs and comment on interesting posts. This will help you build relationships with other users.
Additionally, you should engage with other bloggers by liking, following, and reblogging their posts. Finally, you can use hashtags to make your own posts more searchable.
You should also consider creating a professional and visually appealing theme for your blog. This will help your site stand out and make it more attractive to potential readers. By creating and promoting content, you can reach a wider audience. You should also consider utilizing Tumblr ads to promote your blog. This is a great way to increase your visibility and reach more people.
By following these steps, you can ensure that the right people see your blog. You can create a successful Tumblr blog with the right content and a well-executed strategy.
Use Hashtags and Reblogs
Using hashtags and reblogs are two of the most effective ways to promote your blog on Tumblr. Hashtags are a great way to make your post more discoverable and increase its visibility. When adding hashtags to your post, use relevant hashtags and avoid using too many unnecessary punctuation marks. Additionally, you should consider using popular tags like #writing advice, #writing help, #professional writing, and #writing tips.
Reblogging is another great way to promote your blog. You expose your content to their followers when reblogging other blogs' posts. This can help you gain more followers and reach a wider audience. When you're reblogging, make sure to use the reblog button and not the share button. Additionally, you should consider the content you are reblogging. Look for interesting blogs and reblog posts from other Tumblr bloggers.
You should also consider adding a link to your own blog in the first post. This will help other users find your blog and follow you. Additionally, you can use direct messages to reach out to other Tumblr users and let them know about your blog. This is a great way to build relationships and increase your blog's reach.
Using hashtags and reblogs can increase your blog's visibility and reach a wider audience. With the right strategy, you can build a successful Tumblr blog.
Share Your Posts on Social Media
Sharing your Tumblr posts on social media is a great way to reach a wider audience. You can share your posts on Twitter, Facebook, and other social networks with just a few clicks. This will help you get more exposure and reach a wider audience. You should link your Twitter and Facebook accounts for an automated post feature. This will help improve the reachability of your content. This will help you save time and ensure more people see your posts.
You should also consider creating content specifically for social media. This can include short videos, GIFs, and animated GIFs. This will help you stand out from other blogs and make your content more engaging. Additionally, you should consider using other blogging platforms, such as Medium and WordPress, to share your content. This will help you reach a wider audience and get more exposure.
By utilizing these methods, you can maximize the potential of your Tumblr blog and reach a larger audience. You can build your own customized Tumblr blog with the right content and an effective strategy.
Utilize Tumblr Ads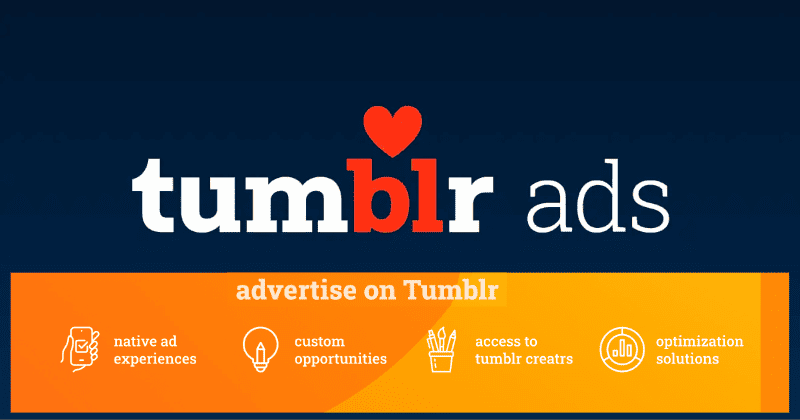 Utilizing Tumblr Ads is a great way to promote your site and reach a wider audience. When creating ads, you should consider your audience and their interests. Additionally, you should use relevant hashtags and create high-quality visuals that reflect your brand's values. Additionally, you can place ads on your Tumblr blog by inserting the ad code snippet into the theme's layout code.
Ad payment depends on the number of clicks and engagement. Therefore, monitoring your results to ensure your ads are effective is important. You should also consider testing different ad formats and running A/B tests to see which type of ad works best for you. Additionally, you should consider setting up conversion tracking so that you can track conversions and optimize your campaigns.
By monitoring your results, you can ensure your Tumblr Ads campaign is as effective as possible. With the right strategy, you can create a successful Tumblr blog.
Monitor Your Results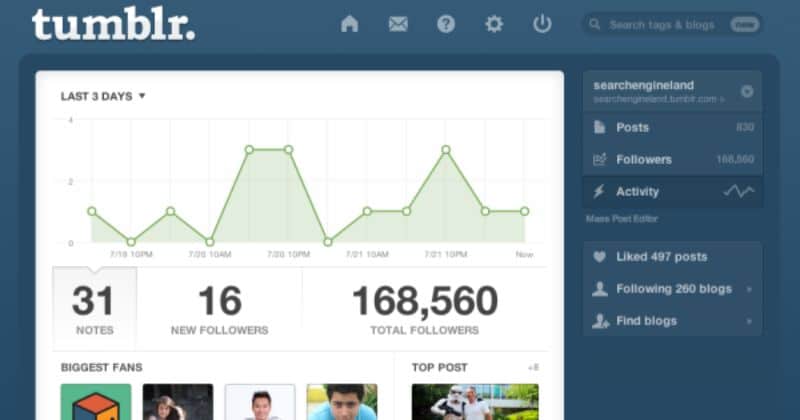 To achieve a successful Tumblr presence, it's vital to regularly monitor your blog's performance, understand its impact, and adapt your strategy based on data-driven insights. You can create a thriving and impactful Tumblr blog by evaluating key metrics and actively engaging with the community.
Key Metrics to Monitor
Followers: Track the number of followers you've gained to measure your blog's growth and popularity.
Traffic: Analyze the volume of traffic your blog receives to understand how effectively you're attracting visitors.
Notes: Examine the number of notes (likes and reblogs) your posts receive to gauge their engagement level.
Comments and Reblogs: Assess the number of comments and reblogs on your posts to measure audience interaction.
Search Visibility: Verify that your blog is discoverable on Tumblr when users search for topics related to your content.
Use Google Analytics for In-Depth Analysis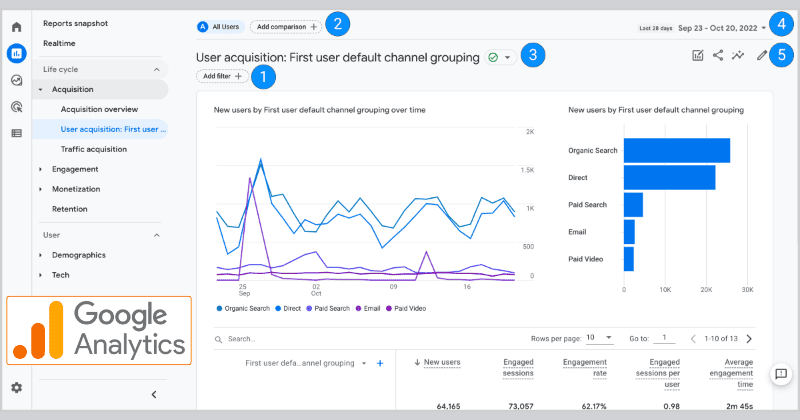 Google Analytics is an invaluable tool for tracking your blog's performance precisely. Connecting your Tumblr blog to Google Analytics lets you access a wealth of detailed information and comprehensively understand your blog's impact. Steps to integrate Google Analytics with Tumblr include:
Creating a Google Analytics account.
Connecting Google Analytics to your Tumblr account.
Adding the Google Analytics tracking code via your Tumblr dashboard.
You'll gain insights into visitor demographics, traffic sources, user behavior, and more with Google Analytics. This data empowers you to make informed decisions and optimize your content strategy.
Building a Thriving Tumblr Presence
Your journey on Tumblr is an ongoing process of creativity, engagement, and adaptation. By monitoring performance metrics, utilizing analytical tools, and iterating on your content, you can unlock the potential of a successful Tumblr blog. Embrace the opportunity to immerse yourself in Tumblr's creative community, build your presence, earn followers, and make a lasting impact.
Over to You
Starting a blog on Tumblr is an empowering way to get your ideas and content out into the world. Fortunately, following this step-by-step guide makes it easier than ever to begin creating and connecting with other users in the Tumblr community. Signing up for an account should take a few minutes, and exploring Tumblr will help you find niches and topics related to yours that interest fans.
When customizing your theme and options, keep things professional and organized to reach maximum engagement with other users. Start posting quality content that resonates well with your audience is crucial in gaining more followers, and staying consistent is key to keeping them.
Interacting with other blog sites, utilizing hashtags and ads, and sharing posts on social media is the best way to stay competitive and further increase visibility. Lastly, monitoring the performance of your blog is essential in gaining insight into what works, what doesn't, and how to gain leverage over rival blogs.
Blogging can be intimidating initially, but with determination and consistency, you can create an outstanding presence on Tumblr in no time!
Frequently Asked Questions
Is Tumblr Good For Blogging?
Tumblr excels in microblogging, offering a platform for those seeking share multimedia content in a streamlined, user-friendly interface. It supports custom themes, reblogging, and varied post types. However, for long-form content and advanced SEO features, platforms like WordPress may offer more functionality
Are Tumblr blogs free?
Creating and hosting a blog on Tumblr is free of charge. The platform provides a range of customizable themes at no cost. However, premium themes and certain advanced customization options may require an additional fee. Ad-free browsing is also available for a monthly subscription.
How do blogs work on Tumblr?
On Tumblr, users create microblogs to post various types of multimedia content. Each blog can have multiple contributors and offers customization via themes. Posts can be tagged for discoverability. The platform's reblogging feature allows easy sharing and amplification of content within the Tumblr community.
How to make a blog on Tumblr?
To create a blog on Tumblr, visit tumblr.com, sign up for an account, select a unique username, and choose a theme. Customize your blog's appearance and account settings. Use the "Create a post" button to publish content, including text, images, and videos.
What is Tumblr blogging for?
Tumblr's free blogging platform is for sharing multimedia content in a microblogging format. It enables creative expression, community interaction, and content curation. Users publish short blog posts featuring text, images, videos, and more, often centered around their interests, art, or lifestyle.
Do people still use Tumblr?
As of 2023, Tumblr remains a popular social media platform, particularly among young adults. The platform, founded in 2007, continues to be used for creative expression, community engagement, and sharing multimedia content in a microblogging format.
Can you make money on Tumblr?
Earning money on Tumblr is feasible through various methods such as sponsored posts, affiliate marketing, and selling digital or physical products. Tumblr's lack of built-in monetization tools means users often rely on third-party services to generate revenue. High-traffic blogs are generally more lucrative.